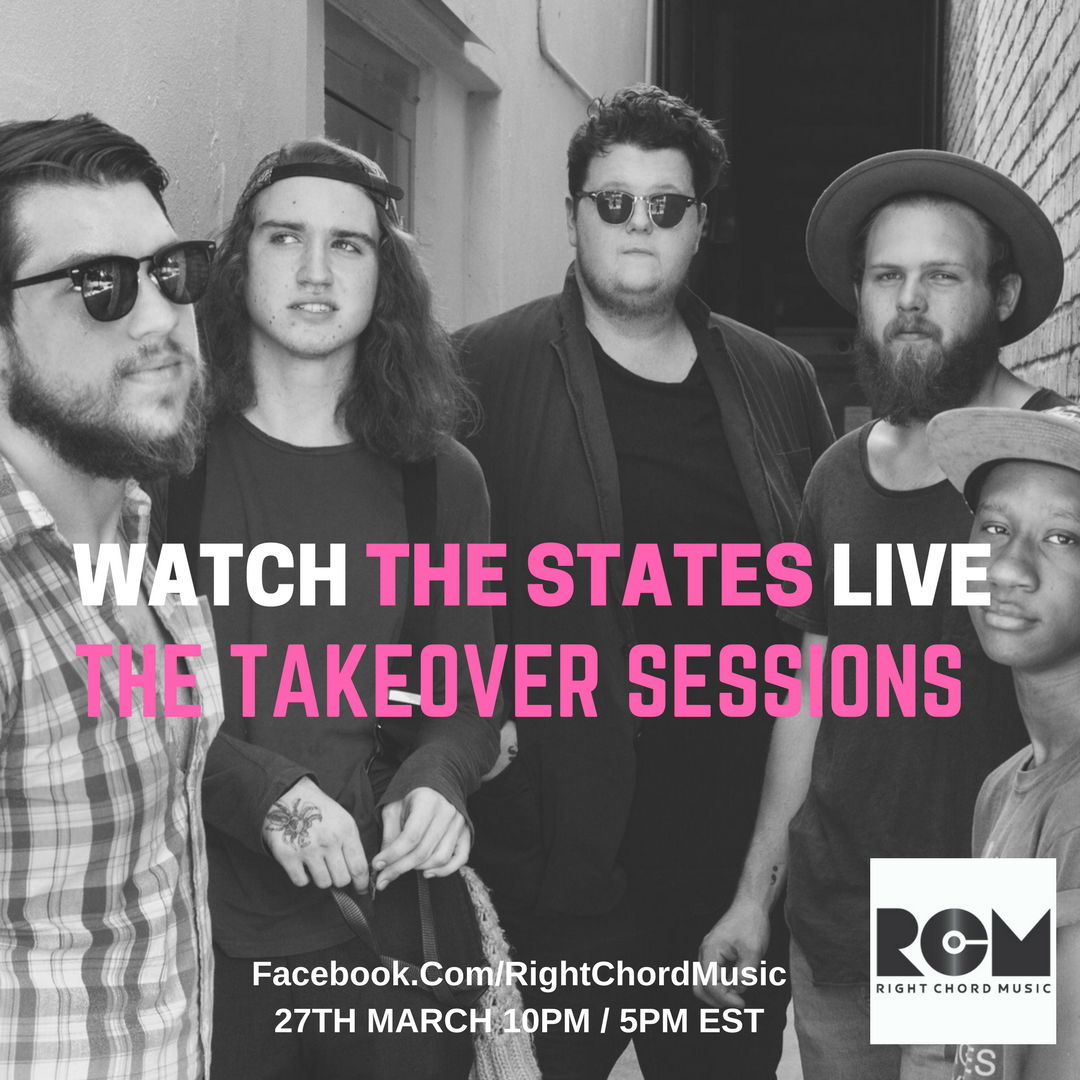 Tomorrow night at 10pm The States become the second band to perform for the RCM Takeover Sessions.
The States Live
Visit the Right Chord Music Facebook page at 10pm to watch the show. Hint. If you follow the page you will receive a notification when the show begins. Ahead of the show we caught up with the band to find out more about their music.
Who started the band, and how did you all meet?
Joshua was introduced to Richie by a mutual friend. They jammed and Richie asked if they wanted to start a band. Enter Matt and the beginnings of an acoustic folk trio. Bryan joined about a year later and the sound changed. We all knew each other from around town and different bands and school. Walke, a friend of Matt's was initially just helping out to record some keys on the EP but he fit so we asked him to join.
Which bands / artists inspired you growing up?
Joshua: Mumford and Sons, Dylan, Tom Petty and Prince (my dad was a huge fan).
What is the music scene like in Orlando, Florida?
Orlando is the place to be in Florida. Places like
The Social
and
Wills Pub
have solid line ups every night of the week. If you can do well in Orlando then chances are you're doing ok.
Catch Betty Who live at The Social, this Thursday.
What's next for The States?
We are about to start work on the album. Looking at mid to late summer for a release date on that. We're in the studio right now working on a single for a project we're doing with the hair company Manic Panic NYC. We film the video for that in early April. We have something special to drop on record store day (A
pril 21st
) Something a little different, with very strong connections to the UK. check out our socials
@wearethestates
that day to find out!!
Any plans to come to the UK?
Our manager is from Northern Ireland and he's been promising to show us the sights so it's definitely something we want to do. Also, most of our favorite bands are from there!
If you could play at any music festival in the world which one would it be?
Glastonbury. It's the best of best. Or Bonnaroo. It's one that's reasonably local and probably the most prominent for us.
If you could support any band in the world who would it be?
Obviously any of the big hitters like U2, Kings of Leon. etc etc  Probably tho' as a group we would love to support The 1975.
Give us some names of other new/unsigned bands that you love and have shared the stage with recently. Who should we check out?