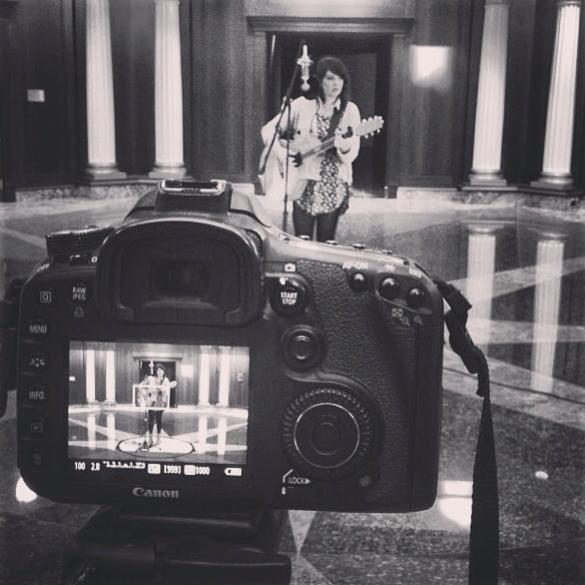 Introducing Sam Pinkerton, 'I Will Never Fall In Love With You' we've been playing this track on repeat for the last few weeks and it still sounds incredible. This is the First Signs Of Love No. 54.
Sam Pinkerton grew up in the town of Venice, Florida. Before the birth of Youtube, DVDs, and iPhones, Pinkerton was singing her original tunes in front of her family's VHS camcorder. During her high school years, Sam wrote and performed as the front woman of indie folk act, 'Someone Like Tommy'. With the band, Pinkerton wrote and recorded a 5 song EP at Sanatana Studios in Spring Hill, FL. During the summer of 2011, the band embarked on a tour throughout the southeast and midwest, opening for bands such as The David Mayfield Parade and Frontier Ruckus.
At the age of 19, Pinkerton left the familiar faces of Venice and headed to Nashville to begin the journey of sharing her songs with the world. Within the first few month of arriving to town, Pinkerton played a handful of solo acoustic shows at notable venues such as The Basement, Bluebird Cafe, and The Rutledge. Overwhelmed by the warmth of the musical community in Nashville, she quickly began to call Nashville home. Rather than residing to the world of songwriter rounds, Pinkerton focused on playing intimate house shows and building long lasting relationships with her fans, both new and old.
In late 2012 Pinkerton released a three song sampler of some of the new songs she wrote and recorded during her first full year in Nashville. It's the quality of these tracks that caught our attention, in particular the first track "I Will Never Fall In Love With You" a delicately plucked and at times near hushed duet which sparkles and shimmers with musical gold. Our favourite duet since Lianne Le Havas teamed up with Willy Mason for the equally bewitching 'No Room For Doubt'
After coming off a brief winter tour with Nashville Christian-folk band Judah & the Lion, Pinkerton has begun to record her first full-length record that she will release this Summer. Pinkerton has brought in Alena Moran to help coproduce the album, and a variety of members from Nashville acts such as Judah & the Lion, Acklen, and Coin to play on the record. She will be launching a crowdfunding campaign called "Sam and Friends" this spring to give fans an opportunity to take part in helping her make the record.
We suggest you save your pennies and invest in Sam Pinkerton's debut album, this is going to be something very special.
Discover more on RCM