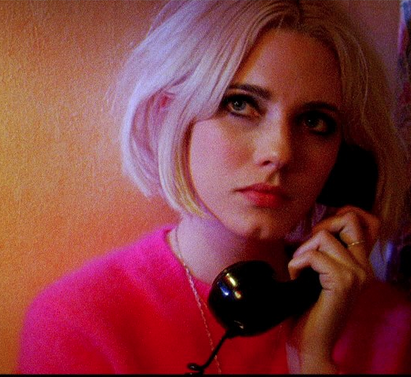 This is Girl Called Johnny and her debut single 'Heaven Knows' sounding like the missing link between Lauren Laverne and Sarah Cracknell, it's a breezy, and joyously upbeat modern pop song about lost love. We're hooked, this is the First Signs Of Love.
Shot in the beautiful climbs of Wales, the new video from Girl Called Johnny marks a heartbroken adventure, featuring solitary scooter rides along desolate sandy beaches and country lanes. The single is the debut from Brighton-born, London-based musician, Karen Anne, and will be released on 1st April.
Naming her band after a lyric by the late, great Rowland S Howard, Karen set out with a determination to create pop songs with meaning; melancholic and resilient, with heartbreakingly honest lyrics that evolved from endless movie sessions and late nights spent reading Henry Miller under the covers. Patti Smith, Chrissie Hyde and Lauryn Hill adorned her mixtapes growing up, and her love of independent and strong female role models continues to inform her outlook today, with the latest additions including Lena Dunham and Grimes.
Karen's ongoing love affair with music has taken a more surreal journey than most. After moving to London from Brighton and forming a band called Ramona some years ago, she quickly found herself catapulted into a new found stardom, signing to a major record label, before going their separate ways a year later. Speaking to POP Magazine this month, Karen confesses, "It was devastating but it did make me figure out what I really wanted to do. I suddenly understood that from now on the creative control was mine, so I could own and care about every single tiny detail."
While some may have been left jaded, Karen took this experience and ran with it, going back to her bedroom to write without the pressures of time or expectations. With turntable staples at that time including The Smiths' Hatful of Hollow, Lou Reed's Transformer and Rowland S Howard's Pop Crimes, Karen's early ideas soon blossomed into her debut album; a glorious pop record full of sass and candour that begs to be listened to (and danced) repeatedly, due for release later in the year.