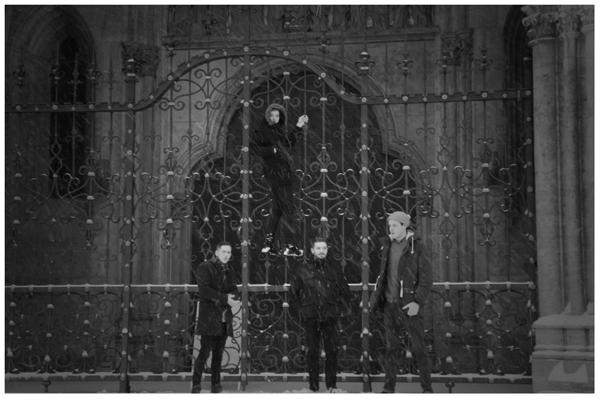 We recently featured Holy Esque's new single 'St' on the blog. Since then we've discovered the self titled EP and have concluded Holy Esque are an incredible band with an exciting future ahead of them. So for that reason we've made Holy Esque our Band Of The Week. So if you missed our first brief feature, don't worry everything you need to know and hear is right here for you.
Glasgow four-piece Holy Esque release their single 'St.' today (25th March). On the single Pat Hynes said "'St.' revolves around appreciation and belief, in life and in one's self. It portrays a character who loses everything around him through an actual fear of loss, which in turn, results in bitter tragedy."
About 'St' we said: "It's hard not to succumb to singer Pat Hynes' powerfully distinctive, impassioned, yet vulnerable vocals."
The band have once again teamed up with Kevin Burleigh (Glasvegas, Simple Minds) to record and produce the record. Kevin also produced the band's debut EP in 2012 in the DIY Pink Megic Studios. Armed with big riffs, thick crunchy bass lines and perhaps one of the most unique, yearning vocals in years, Holy Esque meld post-punk with and 90's alternative rock influences with skilful ability on their debut EP.
Holy Esque formed in 2011 by four young Glaswegians, Pat Hynes (vocals/guitars), Keir Reid (keys), Hugo McGinley (guitar) and Ralph McClure (drums). The band began playing shows throughout the UK in less than six months of their inception and soon the word began to spread.
Following the release of their critically heralded self-titled debut EP the band released a follow up single 'Tear' on August 7th 2012.  Download it for free here.
Holy Esque interview:
You are just back from SXSW what was that like?
SXSW was a great experience, it couldn't have went any better for us. In terms of reception for the band we got an encore after the Scottish Showcase so that's always a plus. We didn't see anything underground but a band called Haim stood out. We saw them a couple of times and they put on a show.
Singer Pat's voice is pretty unique, I wonder when he first sang and realised he had that voice?
At first when the realisation hit me that I could possibly sing I thought it was weird. I didn't really understand what was going on and I still don't but over time I've learned to appreciate it and work at it.
It seems like Holy Esque is a complete piece of art from music to sleeve design – how important is the look of the band to you?
The aesthetic of the band has always of upmost importance to us. I think nowadays people are looking for something more than a band. With Holy Esque other aspects exist that fans are free to tap into and explore. I think that's a cool thing.
To what extent is your music a product of your environment? Does being from Glasgow influence the music you make?
To say that your surroundings didn't influence whatever you create would be a lie. I'm not sure which aspects of Glasgow influence us but I can say that escapism is a theme that's alive in our work.
Where can we catch you live in the coming months?
We're playing a small tour of France next month, with a slot at a festival somewhere in there. Aside from that we have a London show, which is also next month.
Can we expect a debut album soon?
Who can say.
What is the best piece of advice you have been given about succeeding in the music business?
In the past I've learned to ignore advice and do things your own way so there isn't anything profound I can share with you.
Last year you supported The Raveonettes, what was that like and how did it come about?
Sune Rose Wagner of The Raveonettes heard our EP and said that he loved it, luckily he invited us to come on the tour with them. Playing to a capacity crowd in Paris was probably the highlight.
Mark Knight