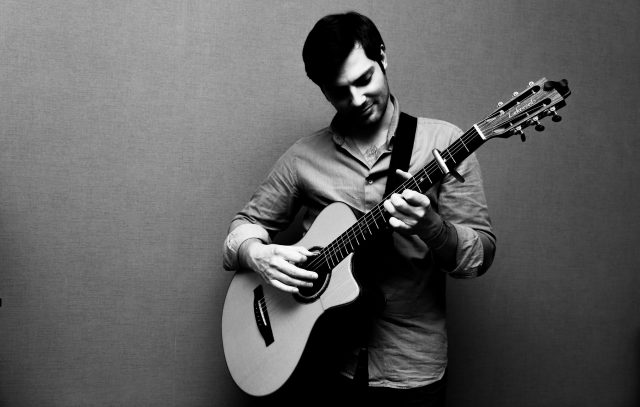 Sometimes a mere guitar riff can do the trick on its own. No big fuss! And that is precisely what you get at the moment Italian singer-guitarist Emilio Lanza's new single '
It wasn't true'
kicks off. 
It Wasn't True
The strumming of those strings lets you know you are in for quite the sassy Mediterranean treat! His velvet voice comes in shortly thereafter, slithering around each note accompanied by subtle dance beats in the background, which make the sauce that bit spicier. The acoustic/dance blend works rather naturally and keeps you hooked from the moment his fingers first hit the strings. 
This is a "come back to me" serenade and of course he makes it clear that he cannot do without your love. But make no mistake, he is blithely aware that, more than anything, you are the one who can't resist his charm… You can practically see the smirk upon our Latin lover's face as he confidently whispers each verse. He knew from the start you couldn't be serious when you said you were leaving him. "I was looking right into your eyes / And feeling that it wasn't you", "This time I know you won't say goodbye". And, guess what, he's right! As long he has the tunes to back up his chutzpah, we'll all be sticking around. 
Emilio Lanza
Lanza works in his studio in Naples and is a talented arranger. The production here is to the point! It knows to hold back and let the guitar speak for itself in the verses, just so it can blow up in the chorus, oozing just the right amount of passion the song calls for. There's some serious guitar prowess here and it has a long story behind it. Lanza has been in a love affair with the instrument since 2004, when he was 16. He then began posting his cover videos online and going busking (which he admittedly still loves doing). He has since then landed a first place award and a "Best Performer" certificate at the local Gareggiano music competition and performed live on his native country's biggest radio. He has garnered over a million streams on Spotify with his original releases, such as First Step and Australia, the latter having been featured on Spotify's official Pausa Caffè playlist. This new killer single should accrue quite a few more listens to the tally… Check it out for yourself! 
Discover more from Emilio Lanza
Words Fernando de Oliveria Lucio