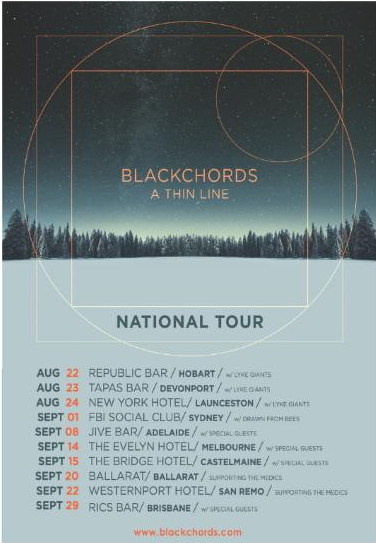 Melbourne, Australia's Blackchords have released further details of their much anticipated new album, the follow up to the critically acclaimed eponymous debut release. We now have a title and a release date. 'A Thin Line' will be released by Blackchords on September 1st.
In support of the release, Blackchords have announced their largest national tour to date with ten shows across Australia. No further news about international dates have been released so far.
Following a decision to leave their label Dust Devil, Blackchords turned to their fans to help fund their second album. With Grammy-winning producer David Odlum at the helm. Expect to hear a marked development in sound.
While the songwriting quality, so evident from the debut album continues unbound, the trademark layered sound is further enhanced with vintage pedals and electronic programming. This will be an album to truly immerse yourself in.
Fans can download lead single, the up-beat melancholy floor filler 'Dance Dance Dance' here