"Silence" is the second single from London based chanteuse Anna Wolf. The track delves into Miss Wolf's own struggle with anxiety; which began in childhood when she witnessed domestic violence.
Back in November last year we featured Believer, the debut single from Anna Wolf on the RCM blog and Lost On Radio Podcast.  Believer was clearly a standout track and rightly found it's way on to our Best 18 of 2018 short-list.  A few months ago we were lucky enough to hear a preview of her second single 'Silence', and we couldn't wait to share it with the world.  This is important music, the kind you have to tell everyone about.
"There's a Million Voices Screaming In My Head"
'Silence' details Anna's own personal struggle with anxiety which began in childhood when she witnessed domestic violence. Recognising that she was not alone Anna decided to use this single to shine a light on this issue.
More than 1 in 10 people are likely to suffer 'disabling anxiety disorder' at some stage in their life. [Anxiety UK]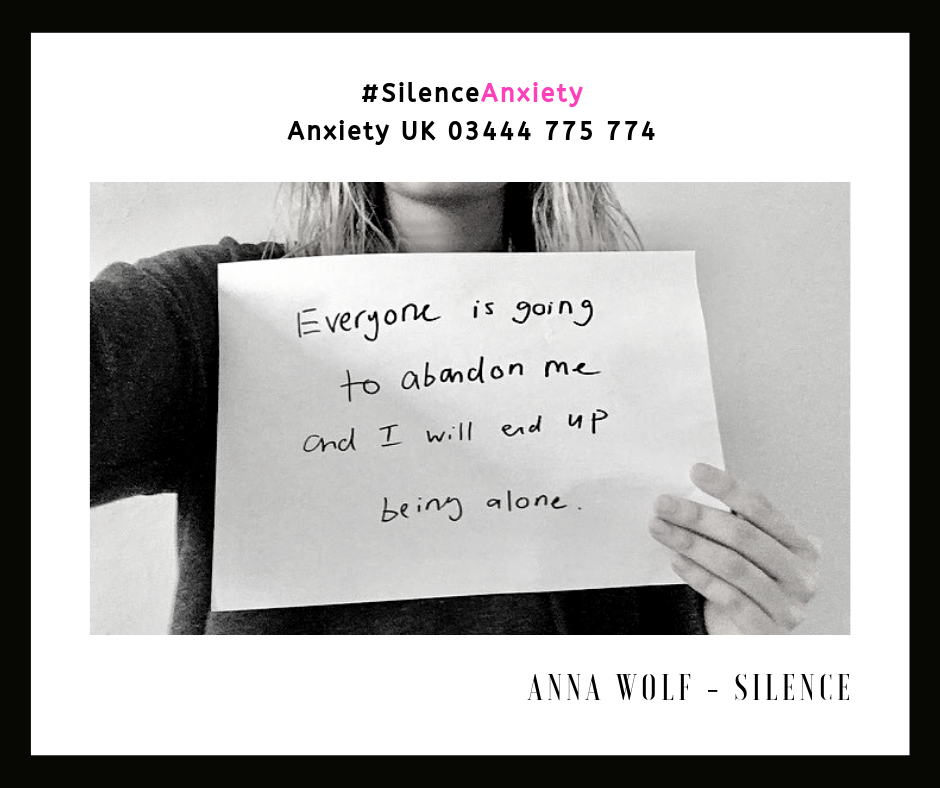 The promotional campaign for 'Silence' features images of her fans, her fellow 'wolves' bravely confessing their own anxieties. To see more of the campaign search #SilenceAnxiety on Instagram.
Anna Wolf Silence
Anna Wolf started writing "Silence" seven years ago. After rediscovering the unfinished demo, she took it into the studio and played to The Bears Production team. Within a few hours, the final version of "Silence" was born. During the writing process Miss Wolf jokingly suggested to fellow writer Dantae Johnson that she would rap the pre chorus, and everyone in the studio loved the idea so much, that the lyrical rap was kept in and features in the final mix.
Pete Boxta-Martin's fresh production sound combined with Anna's authentically driven story results in an honest and powerful anthem that any artist would be proud of.
Anna Wolf Live
Anna Wolf is a force to be reckoned with. With influences from Bjork, PJ Harvey to Johnny Cash and Twenty One Pilots and Christine & The Queens; she comes alive on stage, if you haven't seen her, get yourself along to her next show.
Understanding Anxiety (Anxiety UK)
Anxiety can take many forms and is a normal, if unpleasant, part of life. It can affect us all in different ways and at different times. Whereas stress is something that will come and go as the external factor causing it (be it a work, relationship or money problems, etc.) comes and goes, anxiety is something that can persist whether or not the cause is clear to the sufferer.
Anxiety can make a person imagine that things in their life are worse than they really are, and prevent them from confronting their fears. Often they will think they are going mad, or that some psychological imbalance is at the heart of their woes. What is important is the recognition that anxiety is normal and exists due to a set of bodily functions that have existed in us from our cave-man days.
The Causes of Anxiety
Some people have a very identifiable cause for their anxiety; a traumatic incident, lots of stressors or have undergone a significant life event (moving house, getting divorced, having surgery). However, some people don't have an identifiable cause for their anxiety and it causes them some distress. One way of thinking about your anxiety is to imagine your stress levels as being like a bucket of water. If we keep adding stressors to the bucket (even tiny ones like the school run or commuting to work), over time it fills up until one day it overflows.
This can be a good way of looking at anxiety as it explains why sometimes it can seem to come out of the blue with no significant trigger. However, what has happened is that the trigger was just a very small stressor that tipped us over the edge and allowed our bucket to overflow. What we need is a leaky bucket with lots of holes in to reduce your overall stress levels. Each one of these holes could be something positive that you do to manage your anxiety, such as yoga, exercise, reading, listening to music or spending time with friends or family.
Get Help With Anxiety
Visit the Anxiety UK website or call their Infoline: (+44) 03444 775 774
Discover More Anna Wolf
Facebook / Instagram / Twitter / YouTube / Spotify
Read our latest music marketing thought piece