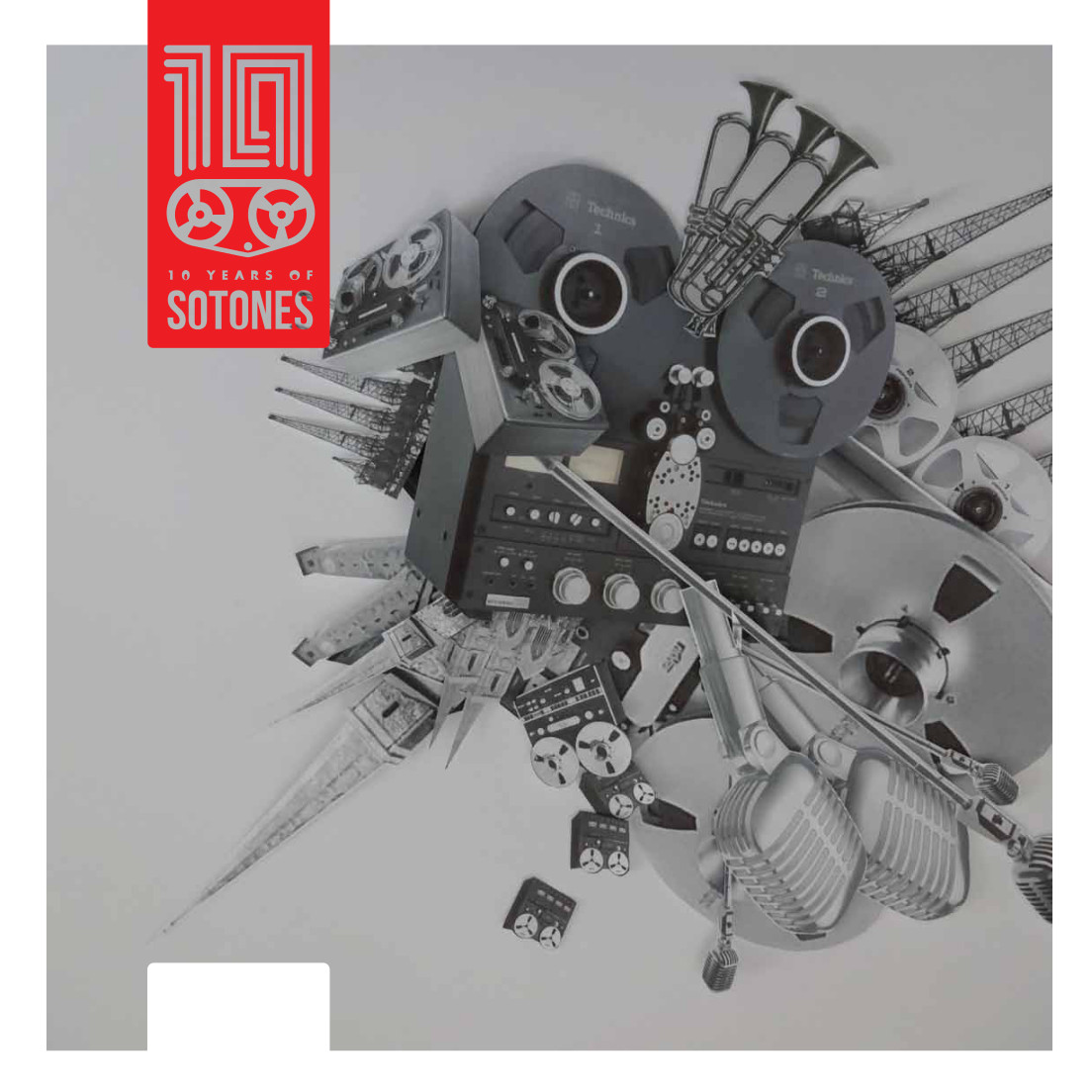 Founded in Southampton in 2007, Sotones Music Co-operative comprises of a record label, Sotones Records, and its publishing arm, Sotones Music Publishing.  Jointly owned by its members, it is a rarity amongst UK music groups, especially considering that in its ten years as a label, it has not only survived, but thrived, in an increasingly volatile industry.
The label began with a series of successful club nights that began in Southampton in 2005.  To this day, live music events are still a big part of the Sotones brand, showcasing emerging and exciting new talent at events in the South of England and across the UK.
Since its inception, the label has released 85 works, by over 40 artists, and presented tours across the UK, continental Europe, and North America.  At a time when the music industry is full of uncertainty, the Sotones Music Co-operative provides a model for what the record label could be into the future.
In celebration of a decade as a label, a limited edition double album is being released, in conjunction with a series of special launch shows across the UK.  'SOTONES10' is 18 all new tracks featuring current and former Sotones artists, including Band of Skulls, Moulettes, Anja McClosky, Fred Kinbom, and many more.  The diverse and genre defying collection of tracks showcases the depth of talent that has come from the label over the last ten years.
Opening with a short ambient instrumental track from Fred Kinbom & Anja McCloskey, the tempo quickly changes, with a new song from the labels most famous group, Band of Skulls.  'The Times They Are A Changin' is what we have come to expect from the Southampton Trio, blues tinged rock with attitude, full of dirty drums and droning guitar.
Lewis Ford & Dave Jones provide a quieter moment with the blissful '2am', a great indie track with tinges of Elliot Smith.  'Wag' from Granfalloon is beautiful, minimal with layered vocal harmonies and clean electric guitar.
The diversity continues, with low-fi guitar pop from Sleeping Tigers, and 90s inspired electro from The Diamond Age and Money Tree.  The impossibly spelt The Beaux Hardts joyfully combine retro punk attitude with more modern influences such as Bloc Party and Interpol.  Pippin Atmark proved the loudest moment on the record, fuzzed out guitars and effects laden vocals feature heavily on their track 'Farewell.' 
'Birds of Paradise' is a live track from Moulettes, and is one of many highlights, somehow making the combination of folky harpsichord and heavy guitar seem perfectly natural, and certainly unique.  German artists Anja McCloskey appears twice, the second time with the London Accordion Orchestra.  Like Moulettes, the combination is uncommon, but quite wonderful. 
The closing track, a short song at just over two minutes, is from Lonely Joe Parker, featuring Emma Richardson and Dave Miatt.  High in production values, the song builds slowly around the vocals of Parker and Richardson, and it is actually a little disappointing when it seems to end so abruptly.
There is a lot of music to get through on the double album.  The songs are eclectic, varied, and span many genres.  For the listener, this means that there is enough variety to appeal to almost anyone.  It is really what any good label should be, a destination for music fans to find new music, and this record undoubtable provides that.  It is unlikely that all 18 tracks will suit everyone's tastes, but there will be at least a few artists the will stand out, allowing the listener to go on and discover more. 
In addition to being full of fantastic music, this limited edition double LP should be bought as a simple way to toast the success of Sotones Records.  A way to congratulate them on ten years of being a destination for new and undiscovered music, with the hope that they continue for many years to come.
If you missed out on getting the album at one of the launch shows across the UK in October, they are available from the Web Store.  For more information about the label, album, and the limited edition Sotones Beer, have a look at the dedicated album mini site.
Discover more Website / Facebook / Twitter / Soundcloud
Nicholas Cheek