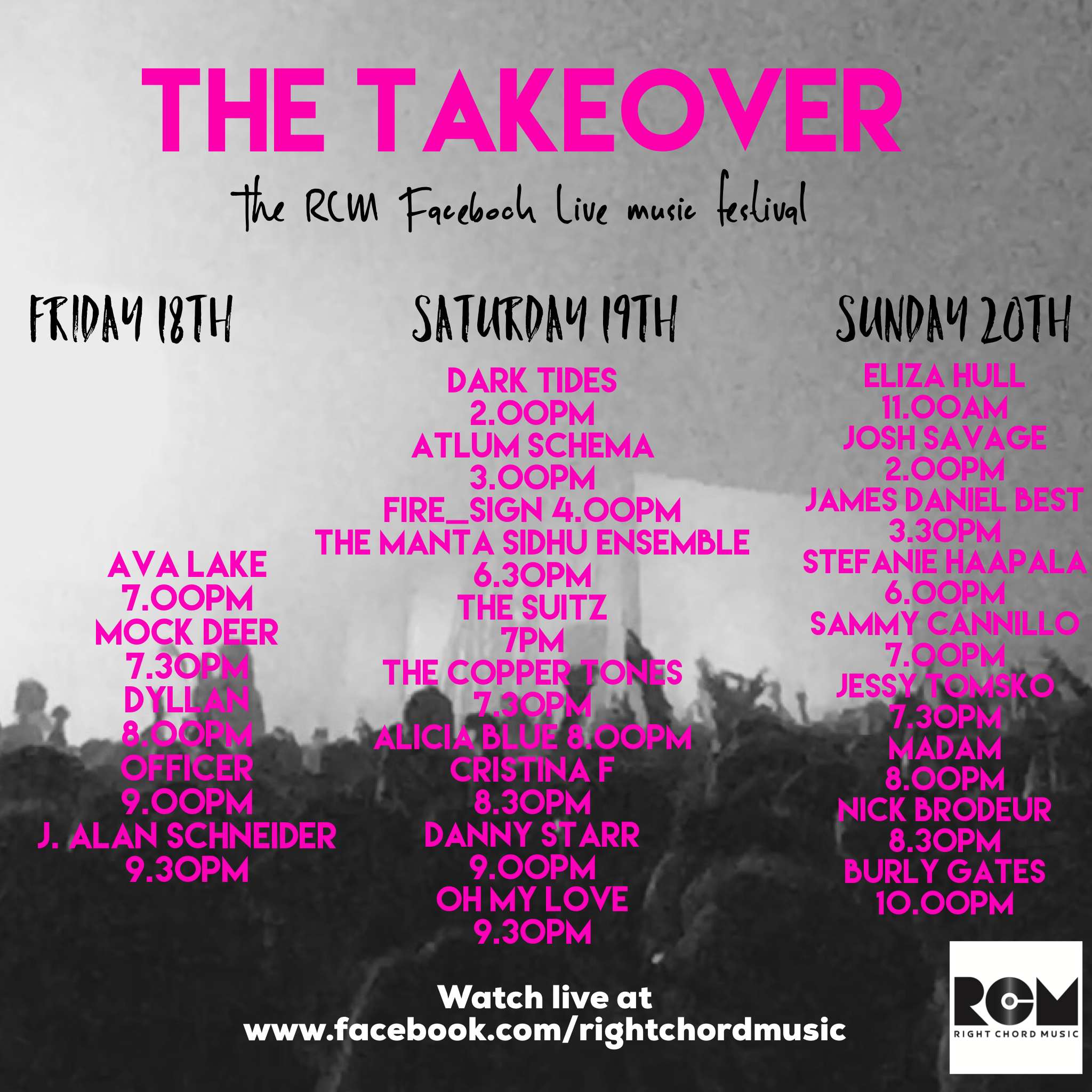 Harnessing the power of Facebook Live, we've created a new type of music festival, inviting bands and artists from across the world to takeover our Facebook news feed. The Takeover Festival takes place 18th, 19th and 20th August. Tune in to watch from the Right Chord Music Facebook Page. Listen to our festival playlist here.
Saturday 
DARK TIDES: 2:00pm
The Saturday lineup kicks off with London four-piece Dark Tides. Intense, passionate dark indie goodness for fans of Interpol, Joy Division and Editors. We can't think of a better way to kick of day two.
ATLUM SCHEMA: 3.00pm
Andy Mort aka Atlum Schema is part of the Right Chord Music family, having presented over 70 episodes of our Lost On Radio Podcast. He also makes beautiful music and we are delighted to welcome him to our virtual stage. Atlum Schema is releasing a brand new EP in October. Tom Robinson from BBC Music has described one of the tracks as "Exceptional. The lyrics and vocals absolutely shine…simply one of the strongest, darkest, most original lyrics I've heard all year". Atlum Schema draws on a wide range of influences from Dry the River to Elbow, put a reminder in your diary.
FIRE_SIGN 4:00pm
Fire_Sign are cellist, vocalist, lyricist and songwriter Sarah Glayzer and drummer, pianist and producer Chris Stickland their music is a beautiful reaction to the confusing world around them, patient and slow-building, panoramic in scope, intricate in detail, an offer of shelter from the cold outside. We all have gaps. Let the sadness flow through you then watch it drip, golden, from your fingers. Find beauty in the darkness. Embrace their stunning self-described 'doom-tronica.'
THE MANTA SIDHU ENSEMBLE 6:30pm
Next up we head to India for the Manta Sidhu Ensemble a collaboration between some exquisite musicians, who have come together to play songs written by Manta, a Delhi based singer-songwriter and songwriter. Expect harmonies and flutes, it's going to be beautiful. When we conceived the idea for this festival, this is exactly what we wanted, beaming incredible live music from around the world into your living room. Thanks to Facebook Live and our partnership with Reverbnation it's become a reality. The bands are currently shortlisted for the Sennheiser Music Award, show your support by adding your vote here
https://youtu.be/v4W8wX9cVGw
THE SUITZ: 7:00pm
From India we head to America for The Suitz a pop-punk group from Chicago IL. Their music is abrasive and theatrical and their live performances are electric! We love the diversity they bring to the lineup.
THE COPPER TONES: 7:30PM
Hailing from South Florida, The Copper Tones bring sunshine wherever they go. Roots music with a favorable twist of Soul, Rock, Americana and more, they've coined their genre as "Soulgrass." This group of talented and diverse multi-instrumentalists give a performance not to be missed! The Copper Tones are another band that came through our Reverbnation partnership.
ALICIA BLUE: 8:00pm
Born in Pomona, CA, Alicia Blue started writing poetry just out of high school. She moved to Los Angeles soon after, where she met old soul singer Malcolm Hayes Jr. who taught her about soul music from the 1960's. Inspired by the voice of artists like Aretha Franklin, and the poetry of Bob Dylan, she combined soul music with poetry in the first songs she would ever write in 2014.  She began performing around LA at open mics and venues, and found her 1st manager busking in Santa Monica in 2015. She was put in touch with producer Julien Genuardi at UCLA for a writing session and instantly hit it off, writing and producing their first song "He's An Artist". Noted for sounding old yet new at the same time, this feature has defined Alicia with a signature sound. 
https://youtu.be/6ZdMbWbABe0
Cristina F: 8:30pm
Cristina F is a Pop Artist from Westchester County, New York.  She composes her own songs, music and lyrics, and plays guitar, piano, and occasional drums. Her music screams Pop with a taste of Rock and Dance. Cristina's songwriting has been inspired by writers like Timothy Mosley, Max Martin and Greg Kurstin who have written songs for artists like Justin Timberlake, Taylor Swift, Ellie Goulding and Katy Perry, as well as Billy Joel, John Lennon & Paul McCartney. Currently she has released a mixtape Feel My Tape and 2 EP's: The EP and Greatest Mistake. In December, she released "The Flowers," a sentimental, yet powerful tune about an adventurous dream she had with someone she lost, and the hopefulness of seeing them again. Cristina is currently working on a 2-part EP, the first part which will be releasing some time this summer. All of her music is available online via iTunes, Amazon, CD Baby, Bandcamp, Soundcloud, Spotify and more.
DANNY STARR: 9.00pm
Danny Starr is an 18-year-old self-taught indie-rock musician, inspired by The Kooks, Alex Turner and Amy Winehouse. Before music Danny played for London Wasps and had an England trial. But after suffering multiple shoulder dislocations and 3 surgeries he turned to his second passion: music. He has been playing live shows since the age of 15 all around his native London. Danny Starr released his debut EP called 'Darling' on The Animal Farm label on the 23rd of September 2016. The tracks from the EP have been featured on blogs worldwide, played on BBC Introducing, featured on the radio across the pond in Missouri and Boston and Spotify playlisted on 'Fresh Finds' and many other new music accounts. Kickstarting 2017 – Danny Starr has returned with the release of a new EP called 'Elixir' and is a finalist in the Unsigned Only Music Competition.
OH MY LOVE: 9:30pm
We end the second day of The Takeover in some style with a duo we absolutely adore. When we first heard them through our partnership with Reverbnation, we knew we had to have them on our festival bill. You could say it was love at first listen. From Austin, Texas we welcome the divine indie, electro, pop sounds of Oh My Love to our virtual stage.