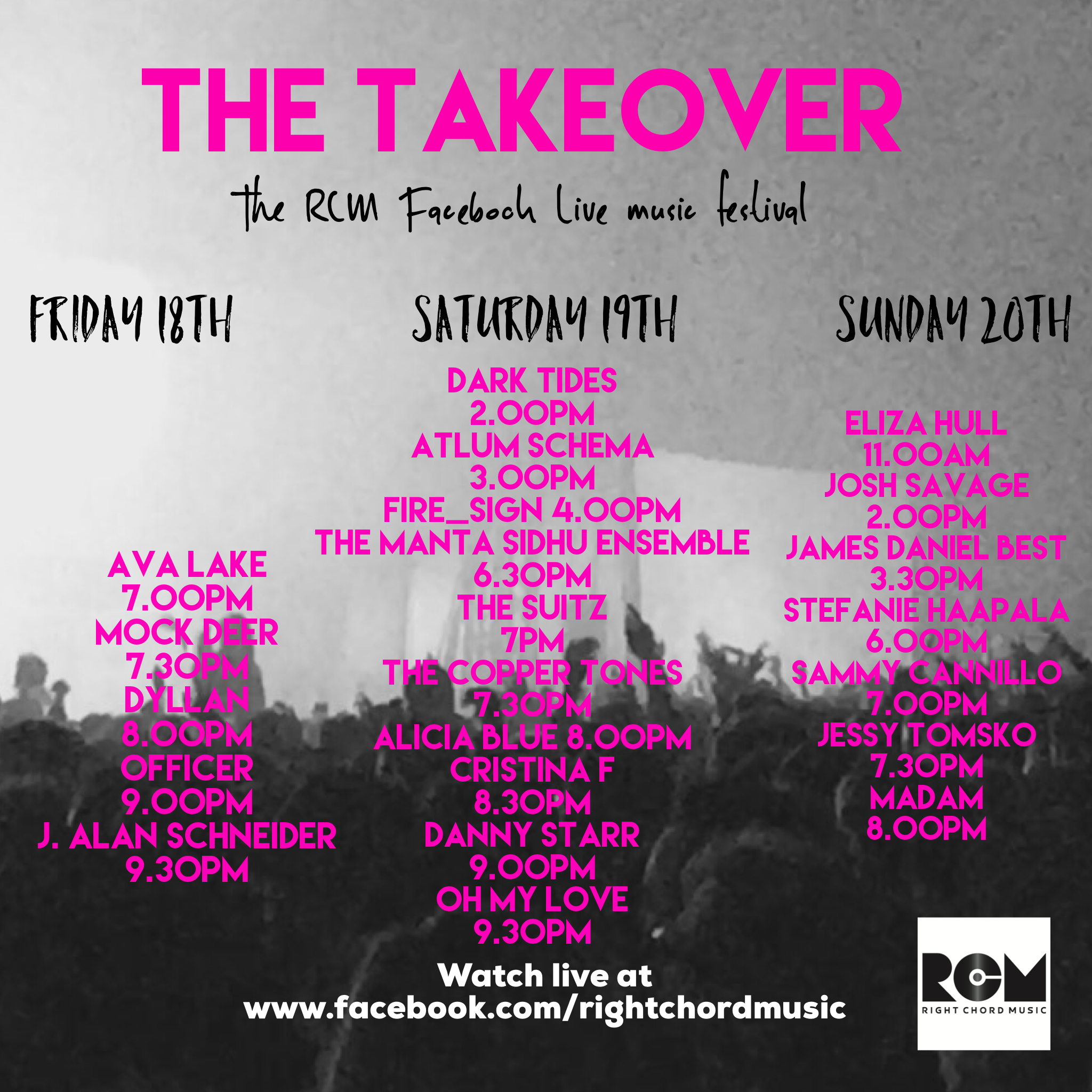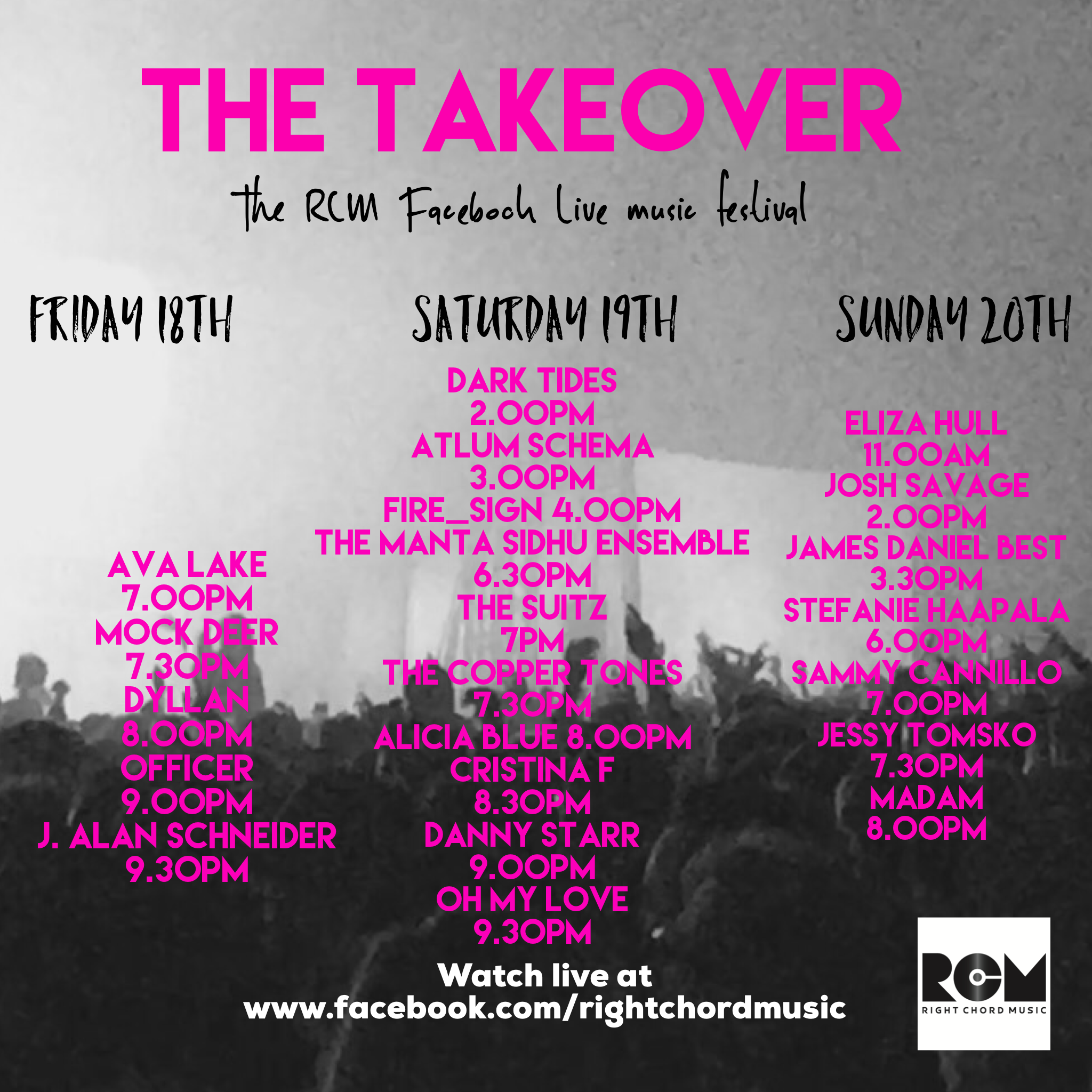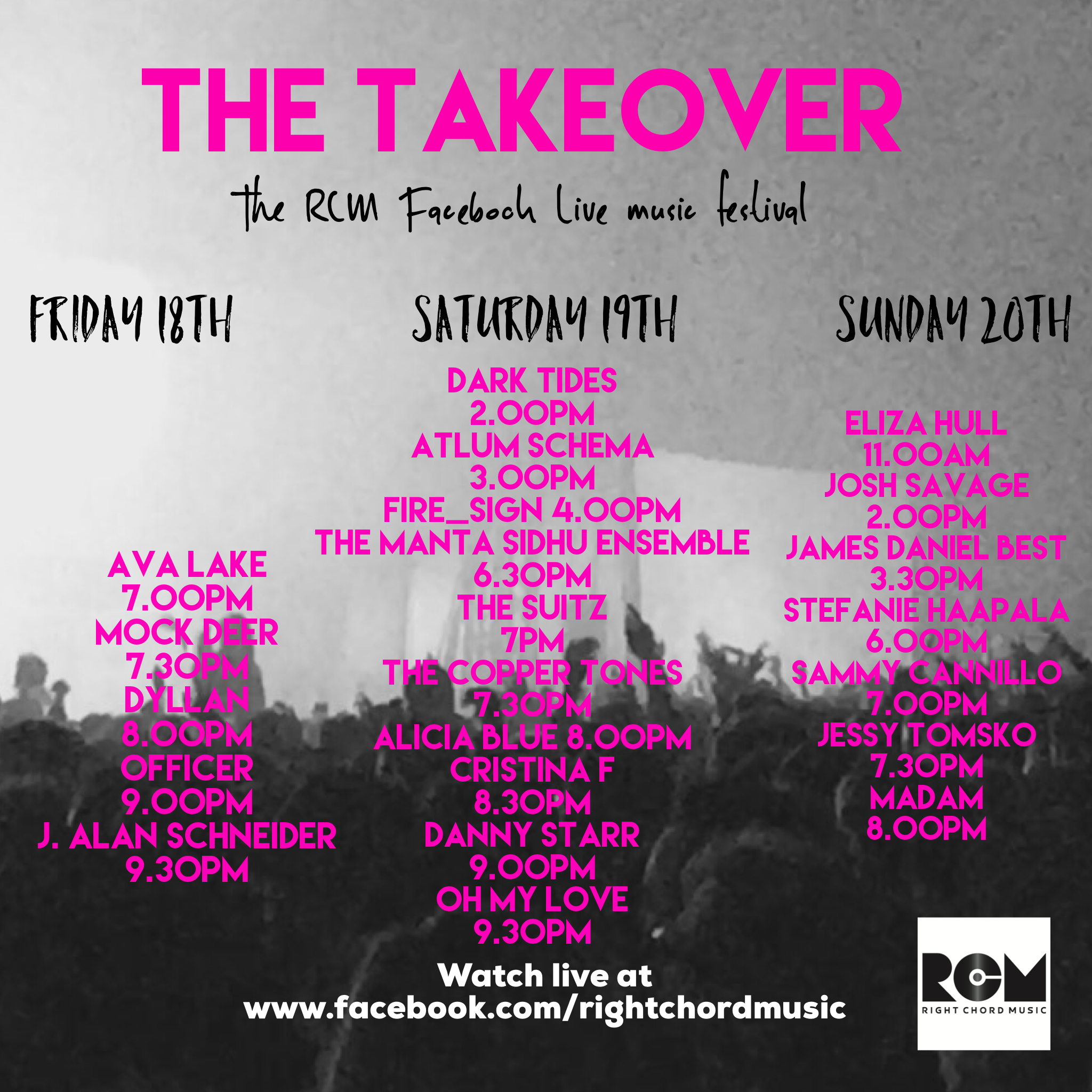 Harnessing the power of Facebook Live, we've created a new type of music festival, inviting bands and artists from across the world to takeover our Facebook news feed. The Takeover Festival takes place 18th, 19th and 20th August. Tune in to watch from the Right Chord Music Facebook Page.
FRIDAY
The festival kicks off at 7pm with a live set from Ava Lake, a singer songwriter from Missouri, now living in Chicago. She fuses indie-electro pop with her love of fashion. It's guaranteed to be a stylish start! Listen to Ava Lake on Spotify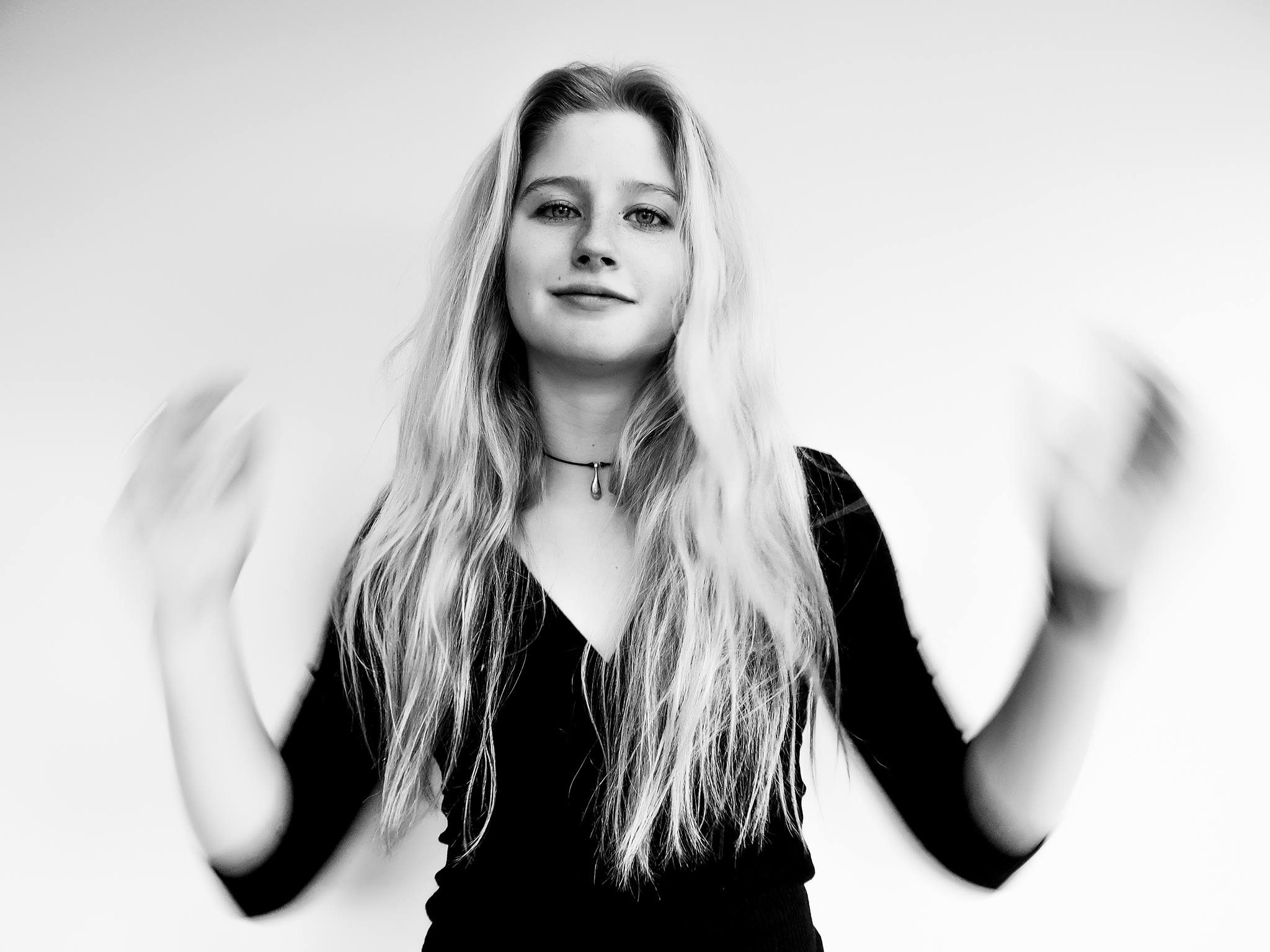 Mock Deer. Friday at 7.30pm
Mock Deer (Ricky Damiani) is a self-taught singer and song-writer with a unique style. Based in London, he has spent the majority of his life in the North of England. As well as writing original music for theatre an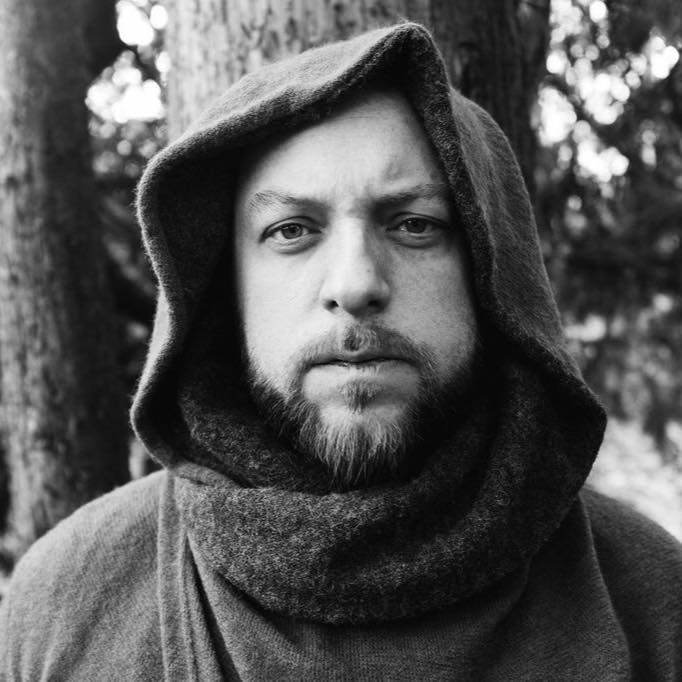 d television he has released two EPs, 'Cold and Bright' and more recently 'How We Used to Live' released in July 2015. His renewed involvement in the live music scene has seen him play shows supporting great acts such as The Burning Hell (Can), The Migrant (DK), Sam Brookes (UK) and Kristin McClement (UK) as well as appearing at several UK festivals, including Festival N6, Wilderness Festival, Ramsbottom Festival, The End & Uncivilization Festival
He is currently recording an album with producer Scott Fitzgerald and collaborating with friends he's met along on the way, The Album promises to be something special and will hopefully be finished by the end of the year. Between the recording schedule he'll be playing shows and festivals in the UK/Europe throughout the year. But before then he brings his foot stomping folk to our virtual stage. Listen to Mock Deer on Spotify. 
DYLLAN 8pm
We first came across Dyllan in New York, taking shelter from a snow storm, we ducked in to a small music venue and saw her playing live, she impressed that night and we've followed her career ever since. She has since featured on our Lost On Radio Podcast and we are delighted to have her playing live for The Takeover.
Dyllan (Dylan Nichols) is a singer-songwriter born and raised in Los Angeles. At twelve she began writing songs and by fifteen she was taking on the L.A. club scene, frequenting the famous career-launching Genghis Cohen. Her debut EP, Acclimating, released in 2010. Her second EP, Anything But Scared, released 2011. Dylan has lived in New York and Paris, where she has collaborated with various artists recording and performing live. Her most recent collaboration was with French artist Thylacine on "Distance," for his new EP Blend, which released June 2014. Their second collaboration, "Closing (feat. Dyllan)" releases January 26th on his next EP, Exil. Her songs have been described as "filled with sensuous detail and complex emotion accurately conveyed" (The Faster Times). Nichols's other important influences include Fiona Apple, Shawn Colvin, Elliott Smith, Bon Iver, Radiohead, Imogen Heap and Bjork. Dyllan has just released a new 4 EP called  'All Those Other Windows' we can't wait to hear it performed live. We also recommend you keep an ear out for her brilliant reworking of Paul Simon 'Bodyguard' Listen to Dyllan on Spotify
OFFICER 9pm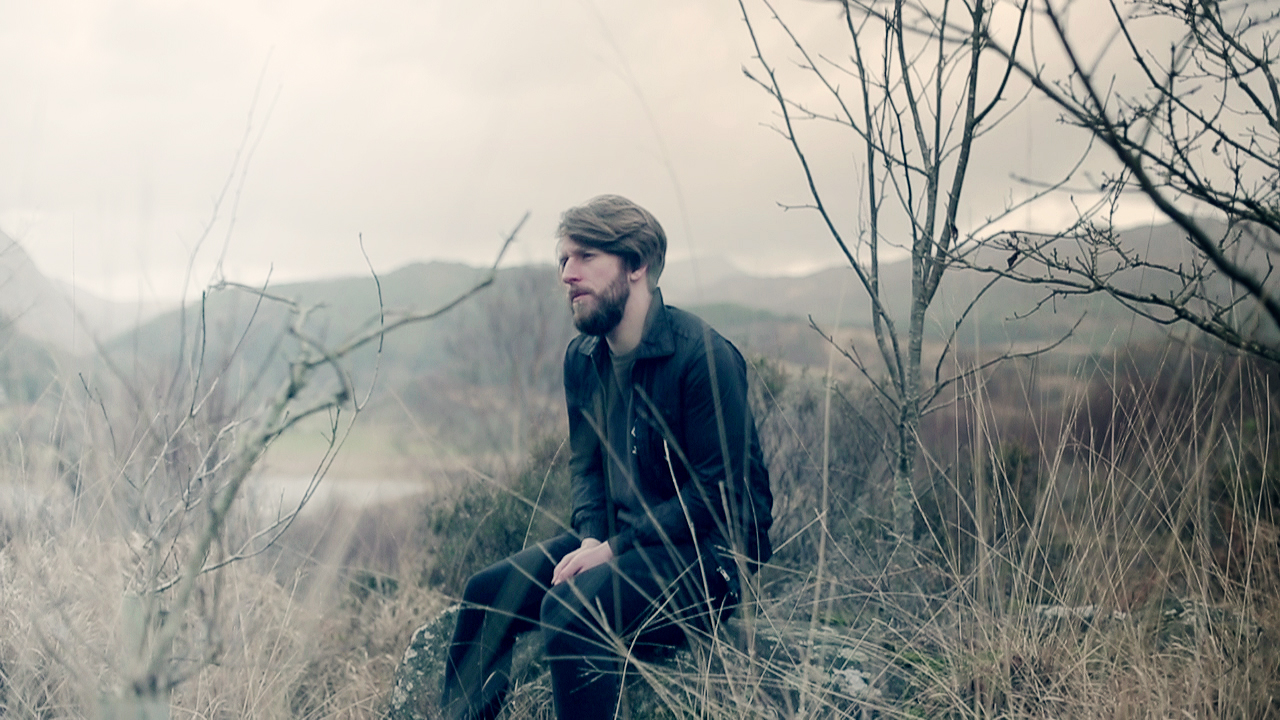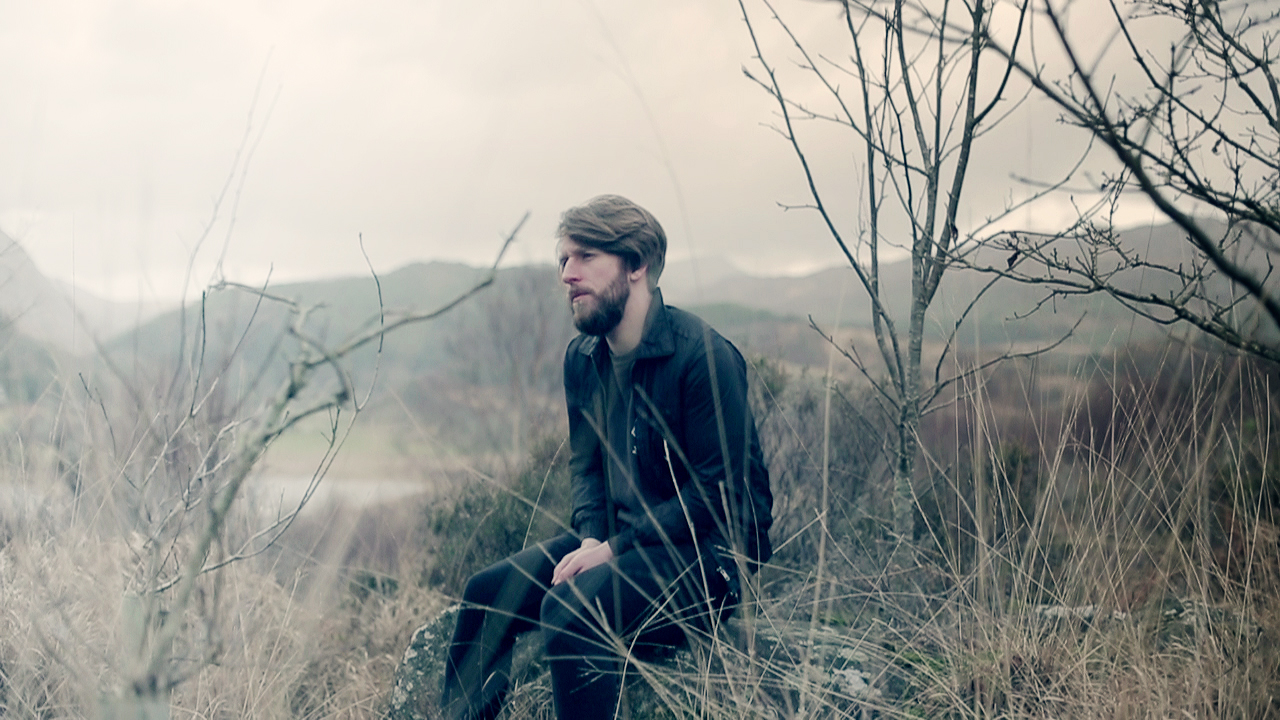 A long-established Right Chord Music favourite we are delighted to have our former artist of the year playing The Takeover.
The story of how Officer's debut album Myriads came about has been told before, but is worth telling again.  Friends of the singer launched a crowd funding campaign on his behalf, without his knowledge.  Officer, aka David Logan, had no idea until he was told that he now had enough funding to record his debut album.  Logan says of the event, "It's great because I've been working on the music around the rest of my life until now, and it's pretty great to have it all suddenly and unexpectedly come to life."
We said…'Intense, intelligent and imaginative. My Darling Defibrillator by Officer, like the rest of the tracks on his début album, Myriads, is more than a song; it's a romantic adventure novel that you can't put Discover more Officer on Right Chord MusicListen to Myriads by Officer on Spotify
J ALAN SCHNEIDER 9.30pm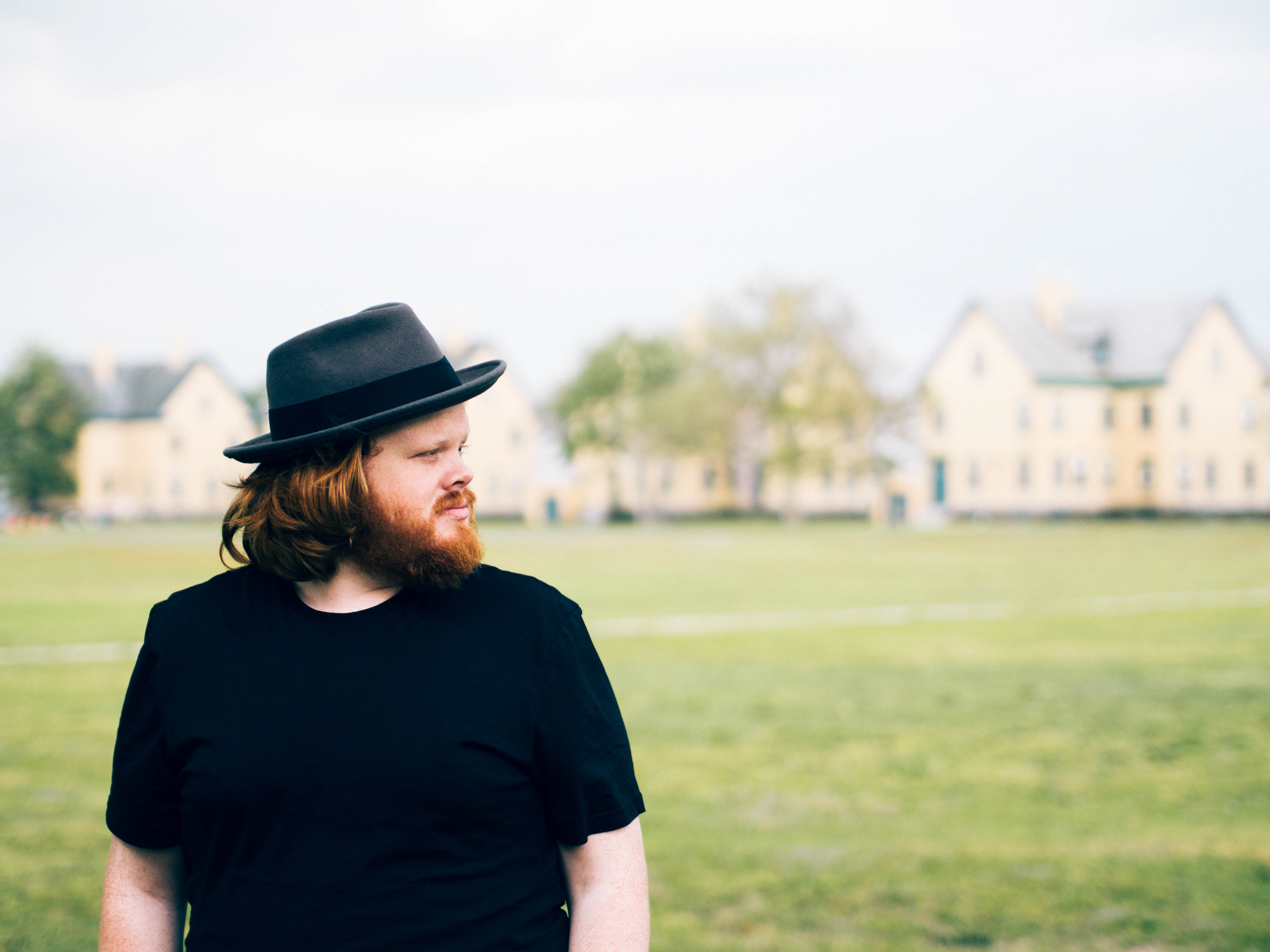 Friday night closes out with former RCM artist of the week. J. Alan Schneider. This New York based artist released his debut EP Lo & Behold in 2016 and it deserves your ears. After years playing in indie, and pop rock acts Lo & Behold signals his arrival as a solo indie folk recording artist. The debut 7 track collection was self produced, performed, recorded, mixed and mastered with the help of his girlfriend Julie. This living room recorded EP rewards listeners with an immediate sense of intimacy, this is music at it's most honest.
The EP contains a mixture of songs written and collected in the last few years alongside brand new tracks. J. Alan Schneider describes 'Benchmarks' (Track 6) as one the of the most personally special.  The lyrics were originally written on a bench in New York City as the sun came up. They are inspired by the large number of people that had left their mark via carvings on the bench. This led to an observation about the amazing people in his life and how he doesn't thank them enough for the marks they have left on him. It's a beautiful metaphor that everyone can relate to. Listen to J Alan Schneider on Spotify.