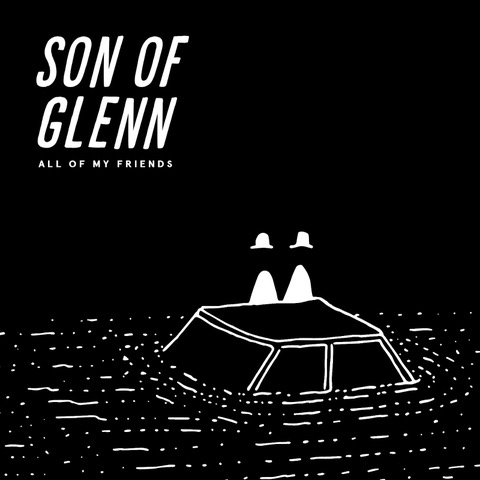 After an extended absence, Leicester's Son of Glenn are back with a brand new single 'All of My Friends.'  It is an emphatic return from the four-piece, with the new track a clear step forward in both songwriting and production since their last release back in 2015.
'All of My Friends' begins quietly, bleakly, with just guitar and vocals, singer Josh Oakley emotively stating, "All of my friends are, messed up or stupid with nowhere to go/I'll keep the lights on, but let's stop pretending anyone's home."  There is a deliberate duality between alt-rock distortion and quiet confessions, between the loud and the soft, the listener never really given a chance for release as the tension is maintained throughout the three-and-a-half-minute track.
Writing began in the UK whilst the band where at University.  This setting proved to be an inspiration, a time of life that is supposed to be full of youthful energy and hope, but is often full of feelings of isolation and depression.  This sense of isolation is the main theme of the track, along with the feeling of a need to escape, and of imminent change.  Sonically the track captures these emotions, the repeating dynamic shifts encapsulate both anger and resignation.  
Son of Glenn draw inspiration from a wide variety of sources.  There are elements of rock and post-hardcore, with even a hint of early 2000s emo.  Throughout there is a subtlety and quiet finesse, the melodic guitar and minor key layered vocals providing a sorrowful beauty.  
'All of My Friends' began life in the UK, but was finished in China, after singer Josh moved there for a year.  It was in Beijing where the film clip was shot, using local film maker George Zhi Zhao, who was given creative freedom to produce the visuals he felt best suited.  The result is simple yet stunning, a series of shots following a desolate figure through nature, and made-made destruction.  
'All of My Friends' is out on the 13th of January on the usual platforms, including Spotify and iTunes.  The band will be playing The Cookie in Leicester on January 18, and Holy Molys in Bedford on January 26.   For more information on Son of Glenn head to their Facebook page, Instagram, or Youtube.  
Words Nicholas Cheek.