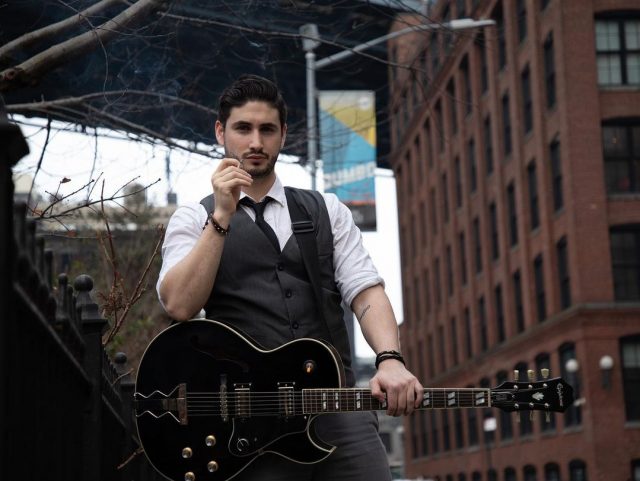 On his self titled album, Sans Patrie connects many styles and elements together to create a distinctive sound. These sounds involve genres including rock, rockabilly, and even punk rock, which, in truth, showcases diversity and strong understanding.
Sans Patrie – Sans Patrie
Sans Patrie, aka Fernando, is a man with extraordinary talent, executing his muse and music with fine details, while also balancing the lyrical qualities beautifully. The songs that make up the record are all decisive and incisive, giving the listener an insight into the mind of the musician who wants to be heard.
Every moment is memorable here, and the music offers a journey of reflection, loss, and the constant stretch for inner peace. The album isn't mundane in any way either, as every song has been meticulously designed to turn heads and to engage with the listener on a personal level. Throughout the record, there are moments when the emotions fly high and the adrenaline comes in with force and hope. All this poignancy adds a needed element, and even when the raucous instrumentals fiercely come in fast, at all times, we know the emotion is there to offer a sense of melancholy.
Lyrically, we're taken into a world where hurt is commonplace, and where hearts are stretched. Hope seems to be cascading underground, and it's injured. Sans Patrie has these poetic underpinnings that read like a story with a high-quality narrative spin. Setting Sun starts the record off with powerful riffs and bashful percussion, which adds stability and range. The lyrics point to pessimism.
Shotgun augments these riffs to a higher frequency. Powerful in its execution, the punk elements work wonders, and the vocals compliment the trickery. It's astounding work. Insomniac Dreaming gathers pace and the guitar wondrously lifts the mood, and the lyrics are poetic and insightful, giving us a vision into the mind of this multi-talented musician. Whiskey Song alerts the senses, gifting the world and the poetic lines are spellbinding.
Sans Patrie is a collection of songs expertly driven by a musician who knows how to create evocative sounds. The album is a testament to honest songwriting and instrumental muscle.
Discover more from Sans Patrie
Discover more on RCM
Words Mark McConville