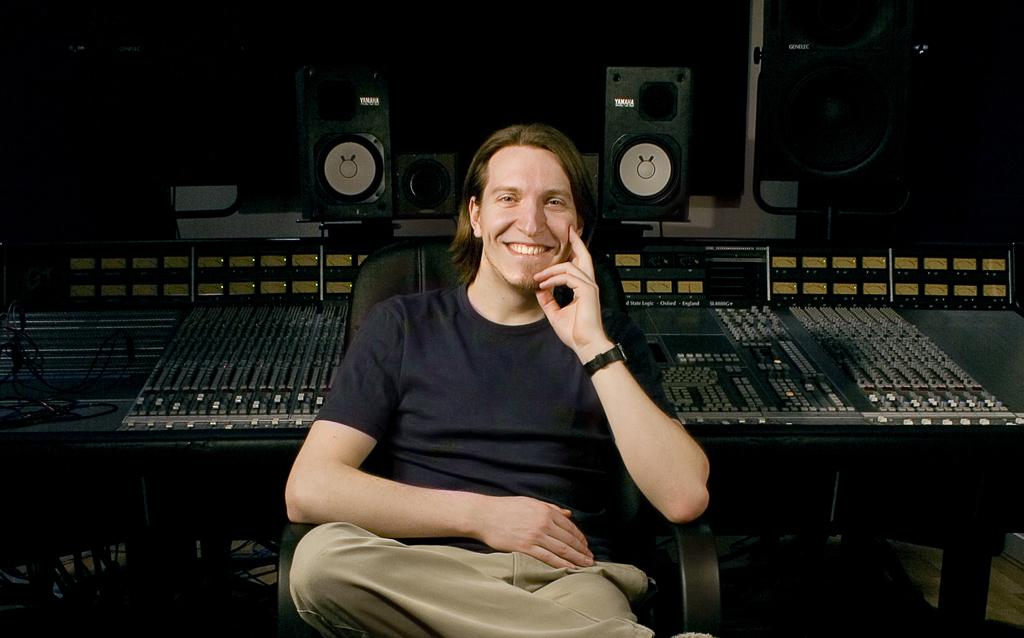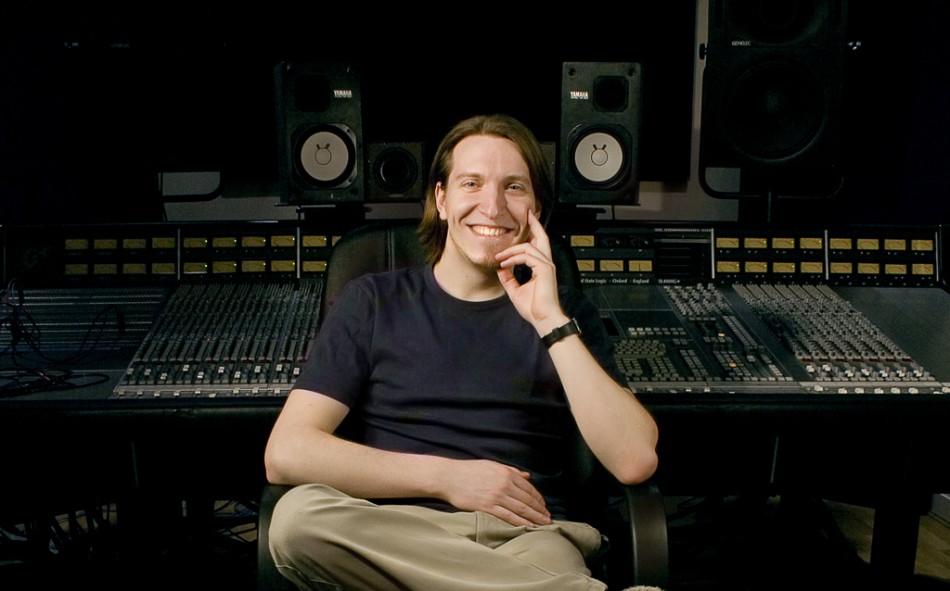 We caught up with Peter Junge a recording and mixing engineer, musician and producer based in London. Peter works with a variety of artists from newcomers to award winners across a variety of musical genres, from pop to rock, jazz to metal and electronic to classical music. What's more, Peter offers a 10% discount for all RCM readers.
Your background is as a drummer, didn't you also play at the MTV Awards, what was that like?
Yes, that's right. I play the drums and a good friend of mine received a phone call from a music producer in Israel, who asked if he knew any good musicians that could quickly learn a song for a music video shoot. My friend, who plays guitar, asked me to play drums, I asked another friend to play keyboards and we were ready to go to Liverpool a few days later. When we got there we saw a few posters saying 'Welcome to the MTV Awards' and thought that this must be a coincidence, after all we were there for a video shoot. Then we met quite a few celebrities from the music industry in the hotel where the singer of our video stayed and got a bit suspicious. But it was only when our cab stopped in front of the hall of the video shoot that we knew we were filming at the MTV EMAs. Although I've played many gigs before, it actually may have been good that we didn't know beforehand, otherwise we may have been too nervous. From then on it was actually quite quick. Everything was very professional and obviously well prepared. We went on stage and performed the song without much preparation. I think you can still find it on YouTube if you search for Shiri Maimon 2008 MTV EMA. She is a big popstar in Israel and had been nominated as one of the best international newcomers that year. She was very sweet, friendly, funny and most importantly an absolutely stunning singer. It was a great experience and one of my favourite moments as a musician.
 So when and why did you move from musician to producer and engineer?
Before I started working as an engineer, I played in bands for many years and studied to become a professional drummer. Besides music I was also a semi-professional BMX rider. As it often happens in this sport, I had a serious injury and that forced me to re-think whether I could play drums for a living, every day, for long hours. Luckily, I started recording and mixing my bands' rehearsals a little before that happened, which also led to EP and album recordings and these eventually led to jobs for other bands. At some point it was clear to me that this was what I really wanted to do and I changed my entire career towards sound. I studied audio engineering in Germany, and completed my degree in London. During this time I've always had a studio and worked on various projects, such as EPs and albums for a range of artists, radio-plays and on-location recordings of choirs and orchestras. I see myself more as an engineer and mixer, the role of the producer just happened to come along with it. Also, I must say I'm not a big fan of the term as it has been used a lot in the 'wrong' way lately. I tend to take the role of a more traditional producer, as the person who oversees the project, an advisor who can help the artist when they are stuck with a song or need an idea for a certain part. I can also help with additional instruments such as strings or finding the right session musicians for the recording.
Which producers do you look up to and respect the most, and why?
I often try to find out what I like about a song and why, and there are several producers & engineers whose names come up again and again on records that I like. One name repeatedly came up across a variety of genres when I first got into making music. This was Rick Rubin. He seems to be a vibe person with a very good sense for what works in a song.
[youtube width="640″ height="360″]http://www.youtube.com/watch?v=3aF9AJm0RFc[/youtube]
However, these days it's mostly recording and mixing engineers who I admire and try to study. I went to a master-class with Andy Wallace whose mixes I love as they always have a lot of energy but sound natural at the same time. He is mostly known for his work with rock bands and some of his credits include Nirvana's Nevermind, Linkin Park, Rage Against the Machine, Aerosmith's & Run DMC's Walk This Way as well as many other great artists from the last 30 years.
[youtube width="640″ height="360″]http://www.youtube.com/watch?v=PbgKEjNBHqM[/youtube]
I'm also a big fan of Tim Palmer who is originally from the UK but now lives in Austin, Texas. His mixes sound huge, and he has mixed many of my favourite albums by Dredg, Porcupine Tree, Pearl Jam, U2, Tears for Fears, H.I.M. and David Bowie. One of my favourites from the last few years is Forrester Savell, an Australian engineer, mixer and producer who has worked with many great bands such as The Butterfly Effect, Karnivool and Dead Letter Circus. His mixes have this fantastic combination of space, musicality and energy. I also attended a master-class with Chris Lord-Alge who is well known for his commercial sound. Many of the records he has mixed are the songs that we know from the radio: from Bruce Springsteen to James Brown, from Paramore to Green Day and from Celine Dion to The Black Eyed Peas. Lately I really started to like what Manny Marroquin does as all of his mixes sound very musical too. For instance, he mixed Alicia Keys, Bruno Mars and John Mayer. And last but not least, Michael Brauer (Coldplay, Rolling Stones, Bob Dylan) and Randy Staub (Metallica, Nickelback, Michael Bublé). Both are known to make records sound huge as well – but are very different in the way that they get there and how they sound in the end. There are many more engineers I highly respect including some of my friends who make amazing records. There's always a lot to learn from all of them.
How has technology changed the role of the producer, how easy is it to get a great recording as a bedroom producer?
Technology has made it much easier for everyone to make recordings that would have cost a fortune years ago. Also, I would say that the roles of professional engineers, mixers and producers are becoming more and more similar. Many engineers know about mixing, mixers know about producing and most producers know a lot about mixing too. The great thing for musicians is that, due to technology becoming more advanced and much more affordable, you are able to do all of the above yourself and get your song, from writing to release, done in your bedroom. On the downside, when you do everything yourself, it can very often be a struggle to finish a song and to make decisions regarding the sound or song quality. That's where an external engineer/producer can help a lot. He can also help avoid mediocre results that sometimes come from knowing a bit, but not enough, about a specific subject. Furthermore, most bedroom producers unfortunately do not have the acoustics, never-mind the microphones and equipment to achieve the sound quality that is attainable in a real recording studio. Therefore, it can limit your chances of appealing to industry professionals such as music journalists, record companies, concert promoters and therefore, a wider audience. Nevertheless, I am a big believer in 'bedroom recordings' as a pre-production stage for the actual studio recordings. The more you know about your songs, the more you know about the parts and how you want them to sound – the better, the quicker and, therefore, also affordable the professional production will be. That way, everyone involved can have a listen, discuss ideas and get a better picture of the final outcome – before any money has been spent. Over the last few years I have worked with several musicians this way and it has always been great.
Is there a certain sound or genre that you most frequently produce?
The genres I work with change all the time, as I love working on different things. I can mix a Pop song on Monday, record a Jazz band on Tuesday, do a Hip-Hop session on Wednesday, record strings on-location the day after and record & mix a Rock band over the weekend. That probably comes from listening to a variety of music when I grew up. I would listen to the Beatles because of my dad, to classical music because of my mum, to Pop or Dance on the radio, and Hip-Hop, Rock and Metal music when riding BMX. I also got into electronic music such as Trip-Hop and Drum'n Bass through a friend of mine and into Jazz when I studied drums. If you look at my iPod you'll find a lot from every genre. Nevertheless, if you ask me what kind of music I like to work on the most, I'd probably say music that gets me, music with energy, music that, ideally, uses real instruments (even if it is electronic music). To me there is something special when you have real instruments in front of you, and even more so when great musicians play them.
What do you think constitutes great production?
First of all, a great song. In my opinion that's the most important part as it is the ground everything else is built on. Different genres may have different requirements for a great song but, very often, you can break it down into four main things: melody, lyrics, chords and rhythm. In all genres, these have to be interesting, touching, new, catchy, something you can identify with or something that makes you want to move. In my opinion, a great production is built on a strong song that, ideally, has several of these elements. That song has been arranged to its maximum potential, with the right choice of key and tempo as well as sounds and instruments for it. For example, a slight tempo change, a key change up or down, an additional instrument or the change of the time signature can have a massive effect on how a singer performs, and, therefore, how the song turns out in the end. If you look up the story of No Doubt's Don't Speak you'll find a fantastic example of how the choices in song production helped to make a hit out of what was a demo, waiting to be finished for several years.
Of course, as soon as you have a great, well-arranged song and you are ready to record, being a well-rehearsed artist definitely helps to capture a great performance. Furthermore, an engineer who knows what he/she's doing, in a recording studio with great-sounding rooms, excellent microphones and high-quality equipment will complete a great production. If he does a good job, he will also get the best out of the musicians and, therefore, out of the song. And last but not least, a good producer is able to oversee and help the entire process, from songwriting to recording, and from mixing to mastering.
What are your favourite 'best produced' tracks of all time?
That's a tough one as it depends on the angle from which you look at it. Classic albums like Sgt. Pepper or Dark Side of the Moon are known for great production. Compared to nowadays, the technical limitations they had back then forced musicians, engineers and producers to be at the top of their game, technically as well as creatively – and the records still sound fantastic today. Great songwriting combined with excellent production has made those songs timeless. These days, many musicians have incredible technical skills and write and perform very advanced songs (just not so much on the radio anymore). Combined with almost no recording limitations, many productions are amazing too, especially from a technical point of view. Many genres take advantage of what can be done with computers and use complex technical processing in order to create interesting FX, soundscapes and, of course, music (especially in electronic and some heavy rock genres). Hundreds of tracks, when well done, can fill the entire audio spectrum and you may find little details even after the hundredth time of listening to a song. Therefore, it is very difficult for me to pick one or two songs, as I love music from different times and genres. I always try to have an open mind and also recommend listening to old and new music from the same genre, music from across genres and music you normally wouldn't listen to. I find it very inspiring, and for example, you'd be surprised by how many similar production techniques are being used in entirely different genres.
What are the common production mistakes?
Firstly, I would say not finishing a song – just as much as not working on your songs enough. It is important to write the next song, not every song will be a hit but with every song you finish you will get better. On the other hand, don't rush it but work on the songs and see what works and what doesn't. Which key, tempo, rhythm, melody and instruments go together without too much tweaking? As mentioned before, if the song is great it will be much easier to mix and produce. It's almost like the song will tell you what it needs, even if that is nothing.
Secondly, I'd say a lack of vision regarding the final outcome of the song. If you don't know where you're going or what you have to do in order to get to a certain result, then you often don't do enough or, the opposite, over-do the production of the song. Of course, experimentation can lead to great musical accidents but I often find having a vision is better.
Lastly, I'd say lack of commitment is a typical problem. That often results in many tracks, sounds or instruments that the song may not really need. If they contribute to the actual song then it's fine to include them. However, if it is a cover-up for any lack of songwriting I'd rather work on the song first. With todays technical possibilities it's simple to double, triple or quadruple vocals, guitars, drums and synths. It has become easy to add lots of things that can be avoided with good songwriting, arrangement and the right choice of instruments, amps, microphones, sounds, and samples. As a result, the recording sessions often end up with hundreds of tracks of the same thing and as a mixing engineer you are often in trouble making everything sound big. If you know what you want and like what you hear – commit and stick to it. Find or tweak a synth until it does what you want it to do instead of using several sounds in the same frequency range which do the exact same thing. Also, record a signal the way you like it in that moment and move on. There is a reason you like it. Save yourself or the mixing engineer time later and start writing a new song instead.
Which artist or band would you most like to produce?
I don't think there is a particular one. I simply love working on great music, no matter which genre, and look for the same thing in a newcomer as in the well-known artists I've already had the pleasure of working with – brilliant songs, vision and drive. It doesn't have to be a big name to be fulfilling. If I like the music, and the artist is serious about their work, I'm in.
If new artists reading this are looking for a producer, how do they get in touch?
The easiest way to get in touch with me is via my websites www.peterjunge.com or www.recordmixing.co.uk. There you'll find contact forms and phone numbers. Drop me a line and say hi. Peter Junge offers a 10% discount for all Right Chord Music readers. Just mention RCM when you contact him.
Mark Knight