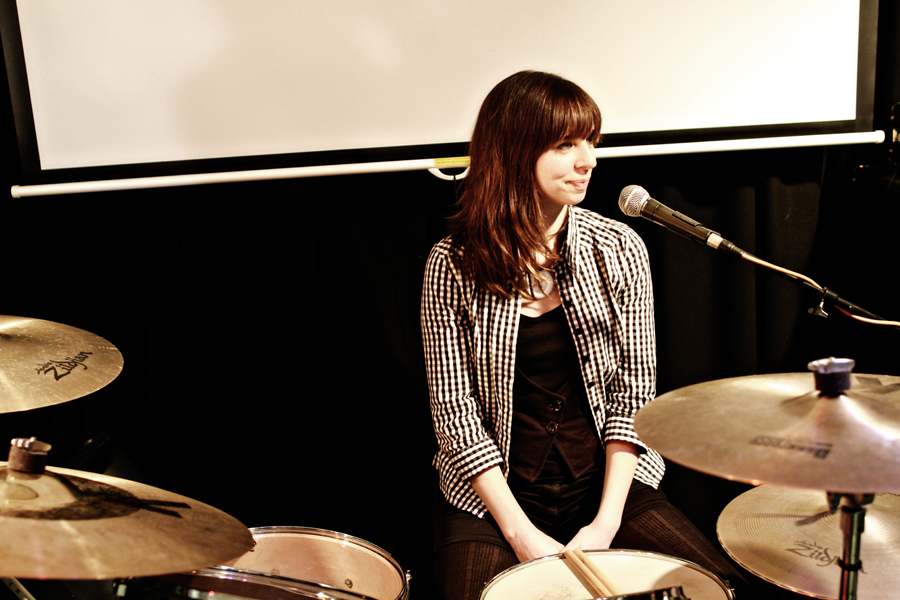 Gemma Hill is a session drummer and percussionist from near London who also teaches and writes for UK drum website mikedolbear. In this interview she talks about day to day life as a session musician and her experiences so far.
When and why did you take up drumming?
I'd been having violin lessons from the age of 4 and was really into music and dancing. My mum showed me a list of other instruments I could learn at school and drums struck me as something fun. I remember thinking there weren't any other girls at school who played the drums so I thought it would be unusual. I took to it straight away and when I was in my teens I did all my grades on orchestral percussion as well as drum kit.  I had a really inspiring teacher and I decided drumming was something I wanted to do for a living.
Are there any qualifications you need to become a session musician?
No – but the more you can do to give yourself the most experience of all styles of music helps you to become a better musician and prepares you for the situations you're likely to encounter. I teach drums and percussion so I'm glad I did all my grades when I was younger as it means I feel confident in teaching them to other people. If you're working in schools or teaching privately it helps to have qualifications that you can list on a CV and it is reassuring for parents or employees. For session playing the most important thing is to be skilled at your instrument and good at networking as most work comes via word of mouth.
I did a degree in contemporary popular music, which specialised in performance on drum kit, at the Academy Of Contemporary Music in Guildford. It prepared me for everything the music business requires of you and honed my people skills. It also gave me confidence and experience of being in audition situations, which was invaluable. There are so many talented people out there who want to work in music so you need to arm yourself with as much as you can that will set you apart and ensure you do the best job. The rest is about being in the right place at the right time.
What is a typical day on tour with a band like?
I'm very fortunate to work with bands on tours and one off gigs that take me all over the world so it depends slightly on where the gig is but often it involves a lot of travelling. I try to rest and relax as much as possible but if there is time I like to have a walk around the place we are playing to get a feel for what it is like. Generally there is a loading in and sound check period in the afternoon and then the gig is later in the evening or very early in the morning. There is often a lot of sitting around and then not much sleep as most bands travel home again the day after the gig. I really enjoy being with the bands and artists I work with; we tend to spend a lot of time laughing! You form a very special bond with people on tour, especially those you share the stage with. It's important to keep each others' spirits lifted if you're tired and look after each other to make the gig go as well as possible.
What are the positives and negatives of being a session musician?
The positives are that you never know what is around the corner so it is a very exciting life. You meet really interesting people and get to see behind the scenes of 'show business' and all the hard work that goes in along with it. You end up in situations where you have to pinch yourself to see if it is really happening and it is all because of playing an instrument that you love. The negatives are that money can be tight; it can take ages to get paid for gigs and there can be long periods of time where nothing is going on at all. You may have to give up a lot of time for something where you won't get paid just to get some experience or to meet people. To keep my earnings up I try to diversify with my drumming as much as possible. As well as teaching privately I write for a drum website, who I do interviews for, and that also helps a lot with networking. The biggest thing to learn is how to cope with rejection from auditions and not compare yourself to other people or over analyse why you weren't chosen for a particular job. Much of the music industry is based on things you have no control over so you have to be able to shrug things off and enjoy the good things that come along.
How do you find it as a woman working in an industry that is quite male dominated?
I find it absolutely fine! Attitudes towards women in music have changed dramatically over the last decade and there are many more women now who play instruments so it's no longer so unusual to see. I feel very strongly that people should feel comfortable playing whatever instrument they want and I think it's great that there are more girls playing drums now. It is quite fashionable at the moment to have women in bands with high profile artists and that is brilliant too as there is plenty of work around. If you respect yourself and do a good job then people will hire you again and again, regardless of what gender you are.
Is social networking an effective way of promoting yourself as a session player?
If you have the skills to back it up then yes! What you are like as a person is almost as important as how good you are at your instrument in relation to getting work as a session player. Social networking sites are a great way to get your name around and to meet people that you might not ordinarily bump into. I've had quite a few auditions via people on Twitter and have been able to meet other musicians in places that I didn't otherwise know they were going to be at. You have to be able to deliver on the playing front when you meet people in real life though, otherwise you're falsely advertising yourself!
If you could work with any band or artist, who would it be?
I would love to do a huge tour with one of the pop divas like Madonna or Kylie; I think that's because of my love of pop music from my childhood! I saw Stevie Wonder play at Hyde Park a couple of years ago and his drummer and percussionist looked like they were having a ball so that would be a dream gig too.
What are the best and worst experiences of your career so far?
I have had so many amazing experiences, it is hard to pick one! I think the best would have to be being in Cee Lo Green's backing band at the Capital FM Summertime Ball last year at Wembley Stadium. As we walked up to the backstage area the noise of the crowd was incredible; it made my spine tingle and it was absolutely amazing to see that many people dancing in front of us. The worst experience wasn't a gig itself; it was the venue! We were playing on a boat in Paris that had the tiniest backstage area, which was teaming with drunk people. There were no toilets on that side and we got back from our set to find people had peed in cups and left it on the table because they couldn't get across the boat full of dancing people!
Who are you working with at the moment?
I'm in my 5th year of playing for Robots In Disguise, a female electro/pop/rock duo who take me out as their drummer for live gigs. They released their 4th album last year and I love their shows as there is always a lot of fun and dressing up!
[youtube http://www.youtube.com/watch?v=5NE51UKUA1U&w=640&h=480]
I'm also playing for a very talented folk singer/songwriter called Matthew Kilford he has a remarkable voice and he deserves big things to happen for his music this year. Matt's songs give me a chance to use a lot of my percussion as well as kit so that keeps things challenging for me.
[youtube http://www.youtube.com/watch?v=tOvL87p0rk0&w=640&h=360]
I have just started playing for a new artist in London called Any O'Neill and I'm auditioning for new things all the time. Last year I had a lot of TV work on X Factor, which was fun, and I've had some big pop auditions this year so I hope to break through to the next level for some bigger tour work soon.
[youtube http://www.youtube.com/watch?v=0FXl8Zulb4g&w=640&h=360]