As a blog that loves to champion incredible new music, we're always on the hunt for great new sources of music recommendation and the Band Of The Day app is one of our favourites. We caught up with Amanda Van West to find out more.
Firstly can you introduce yourself. Who are you and what do you do?
My name is Amanda Van West, and I'm in charge of all things music for the Band Of The Day app. This includes everything from finding bands to feature in the app, clearing features with bands/record labels to legally stream the music, creating the content that appears in the app, and coordinating cross-promotions, among other things.
What is the best part of your job?
I literally get paid to listen to music all day! It's also extremely rewarding, as a longtime music geek, to be able to help expose up-and-coming bands to a new global audience. I've had bands contact me after they've been featured, saying that they saw a big spike in new fans and sales on the day they were featured in the app. It's an amazing feeling to know that we play a role in spreading the word on good music. Likewise, we often get users thanking us for helping them discover their new favorite bands — bands that they may have never heard about if it wasn't for Band of the Day.
When did Band Of The Day first start?
Band of the Day launched in September 2011 (Fun fact: the very first band featured was Craft Spells!)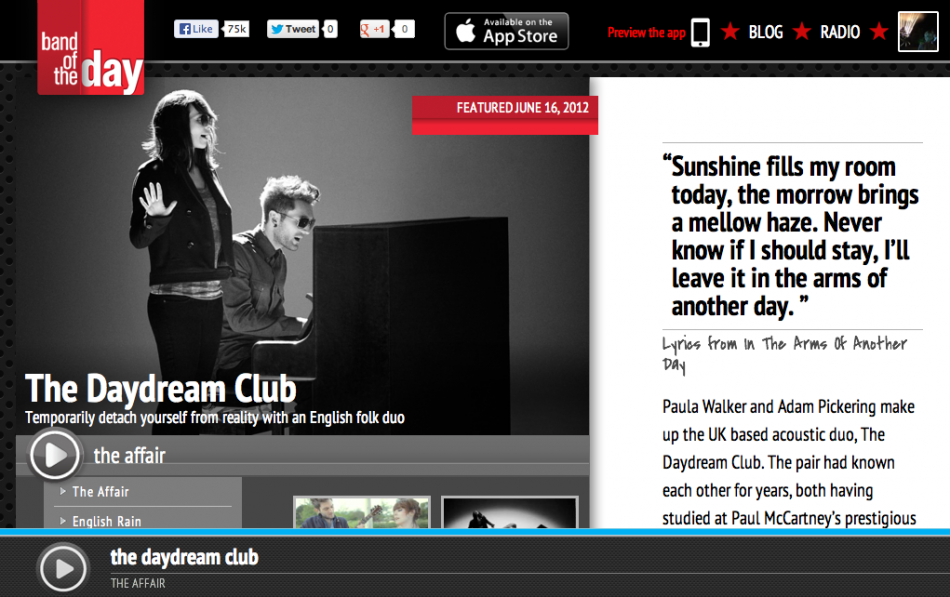 How have things changed since then?
So because we stream a selection of full songs in the app, for free, we actually have to work with every single band to legally stream the music. Before the app launched, bands/record labels had to take us on good faith –without even seeing what the app looked like– that what we were doing was a legitimate thing. In the beginning, we worked with a licensing team (as they already had established connections in the music industry) to get all of the bands on board for features. Since then, as the app has grown to over 5 million users worldwide, it's a much easier discussion to get bands on board, and we're doing all of the licensing in-house now. It's also changed in that more bands are reaching out to us about features, rather than the reverse.
Can you think of any bands or artists that have featured on the app as unknown artists who have since gone on to become household names?
Bon Iver was still relatively unknown when we did a feature, and I remember Kishi Bashi having just a few hundred fans on Facebook when we did our feature on him. A producer actually reached out to him because of the feature.
Can you recommend any new favourite artists that we should be listening out for?
Some recent favorites have been: Shannon and the Clams, The Dig, Palma Violets, Disclosure, and Savoir Adore. But it's funny – because I listen to so much new music all day at work, I tend to go back to my old favorites when I'm out of the office (such as The Libertines, The Strokes, White Stripes, The Beatles, Late of the Pier, Yeah Yeah Yeahs, Hope of the States, etc).
What sources do you use to discover the new music you feature?
Anything and everything! I read a lot of different blogs from all over the world; go to a lot of gigs/festivals; talk to employees in record shops; take recommendations from friends/family members/co-workers/bands/Band of the Day users; I'm on PR mailing lists for a bunch of different record labels; CDs are mailed to us; or even being out in a shop or restaurant, hearing a cool song, and then asking an employee what's playing.
What makes a Band Of The Day featured artist?
I think just having a really good sound, no matter what the genre, that has the ability to appeal to a global audience. I especially love finding the obscure bands that aren't written about in mainstream Western music press — from Sardinian garage punk (like Thee Oops), to Indonesian twee (White Shoes & the Couples Company); to Argentinian post-rock (La Gran Perdida De Emergencia).

Have you ever struggled to find a new band a day?
So far, surprisingly not! We're nearly at band #750 right now, and I still have many bands in the pipeline. Also, there's no shortage of people contacting me saying things like, "Hey, have you heard of this band called ____?" …even from my own mom! 🙂
The Band Of The Day app is available to download for free from the Apple App store.