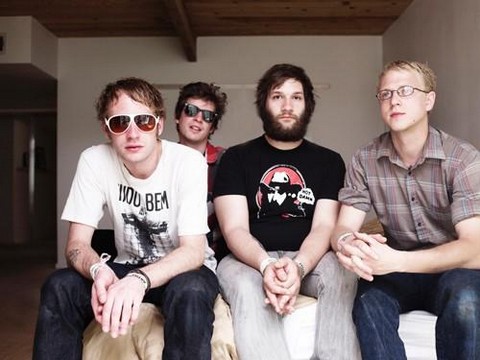 In gearing up for the release of their new album, Negativity, Deer Tick have revealed the video for new single 'The Dream's In The Ditch'. It's released as a single on the same date as their record September 30th – and precedes their only UK date at the already sold-out Borderline in London on October 1st.
[youtube width="640″ height="360″]http://www.youtube.com/watch?v=MNnxdLY4Dss[/youtube]
The video includes a stretch limo, a Chinese Fire Drill and the Rhode Island quintet running atop said limo.
The sparkling Baroque pop of 'The Dream's In The Ditch' sees Deer Tick frontman John McCauley exchange vocal duties with the band's guitarist Ian O'Neill.  Speaking about the new track, O'Neil says "we toured exhaustively leading up to 2013 and it kind of left me and our band feeling hopeless and disheartened. After the song was written, I started to realize that's what I was writing about: both the despair and [the] resilience you develop as a touring musician".
Negativity was penned over the course of an annus horribilus 2012, in which McCauley's father pleaded guilty to federal charges of conspiracy and tax fraud, leading to a prison sentence. As if that weren't enough, McCauley's wedding engagement collapsed under the weight of his own excessive behaviour and impossible lifestyle. McCauley channelled his anger, sadness, and regret into his work, resulting in what can be safely declared his finest collection of songs to date, impassioned and interior and increasingly mature, both as expression of emotion as well as pure song-craft. Negativity sees the Tick bridging boozy punk, AM gold, bar band blues, country soul, and whatever else catches their fancy into their own profoundly American rock 'n' roll.