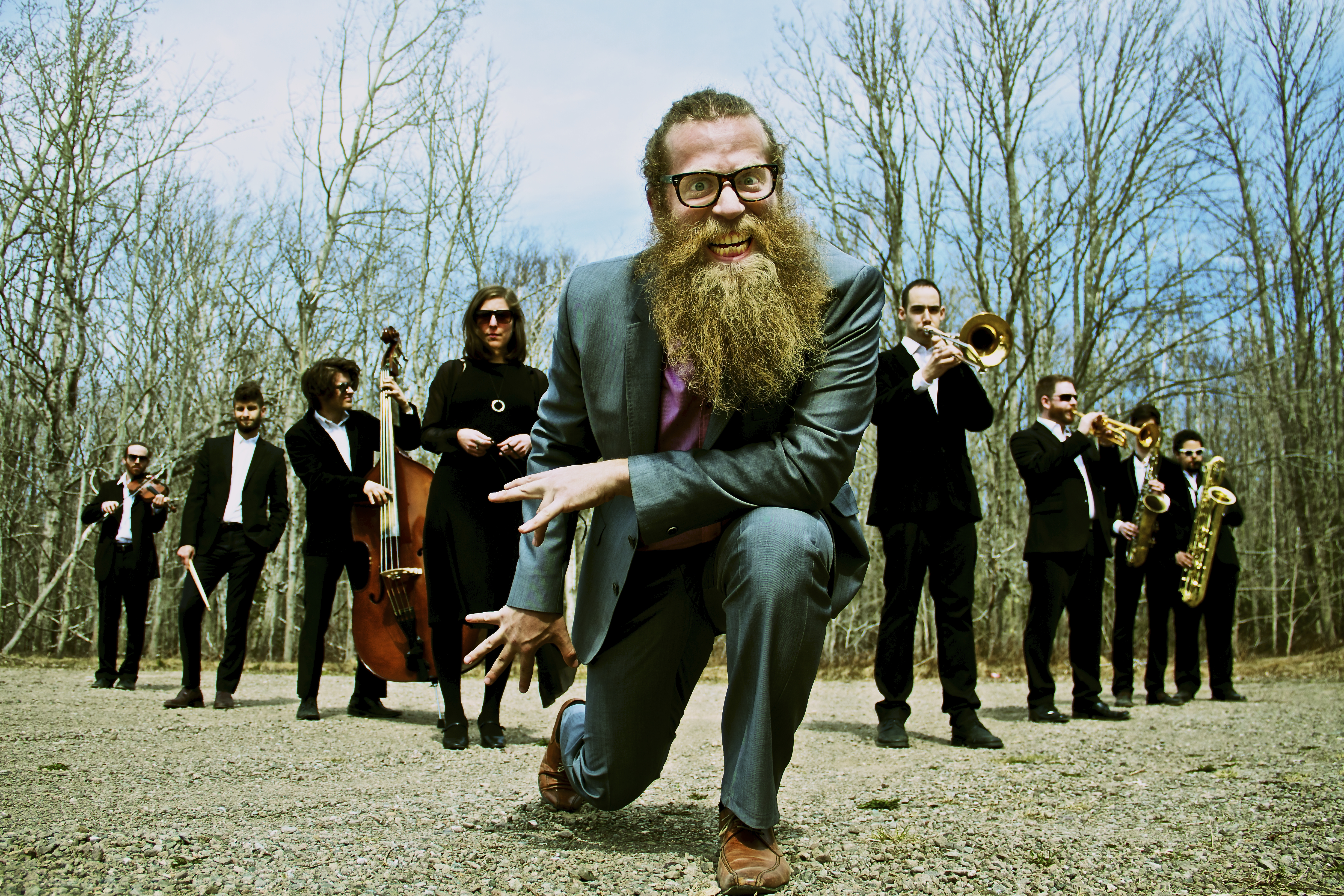 Ben Caplan's beard in enormous.

 

Not like a ZZ Top comical beard, more of the wild unkempt mountaineer beard, it seems to be about twice as big as his head.

 

With the facial hair, glasses, and slightly manic expression in his press shots, he is a man with a commanding presence.

 

However, the beard does not maketh the man, so perhaps we should concentrate on his music.
Birds with Broken Wings is Caplan's 2nd full length release.  It follows 2012's In the Time of the Great Remembering, a critically acclaimed release that saw him win seven awards at that years Nova Scotia Music Awards, including Entertainer of the Year.  Musically it is a cross between traditional folk and jazz, the instrumentation giving it a unique sound, as the acoustic guitar, fiddle, trumpet and piano accordion feature heavily throughout.  At times it is loud, upbeat, and manic, with contrasting moments of quiet subtlety.
Ben Caplan – Birds with Broken Wings
Title track 'Birds with Broken Wings' is lyrically poetic, dark, and full of metaphors, and a great way to open the album. It is upbeat, and full of as much joy as it is darkness.  'Belly of The Worm' finds Caplan sounding like Nick Cave singing over the top of a Dirty Three song.  'Night Like Tonight' is more of the jazz crooner, piano and smooth vocals showing the range of the band.  Caplan's voice changes depending on the song, going from exaggerated circus folk, to smooth jazz, to a low growl similar to Tom Waits before he lost his voice.  And whilst musically it is not close at all, there are moment where his voice sounds like a younger Tom Jones.
40 Days and 40 Night
'40 Days & 40 Nights' is a great waltzing track with a horn section introduced for emphasis in the chorus.  Caplan really stretches his vocal range here, going slightly off key and crackly in some of the higher notes, in a good way.  This is the type of music that doesn't work when it is overly produced and clean, it has to have an edge, and at times sounds like it was recorded in some jazz bar late at night, the crowd already liquored up enough to be boisterous.  There is the clinking of glasses, dropping of instruments, and shouts and laughing from the back up singers.
Album closer 'Lovers Waltz' is a simple, and beautiful song, just piano and voice, and the perfect end to the journey that is Birds with Broken Wings.
Ben Caplan & The Casual Smokers
Caplin's backing band 'The Casual Smokers' are a rotating group, and there seems to be a lot of them.  Caplin and his band are almost constantly on tour, playing over 1000 shows since he first started touring his debut album in 2013.  They are currently touring the UK and Europe until mid February, after which they begin their extensive tour of North America.  Birds with Broken Wings is an album that was made to be played live, and will surely be an absorbing experience.
Ben Caplan's new album, Birds With Broken Wings, is released March 4th.
Nicholas Cheek.