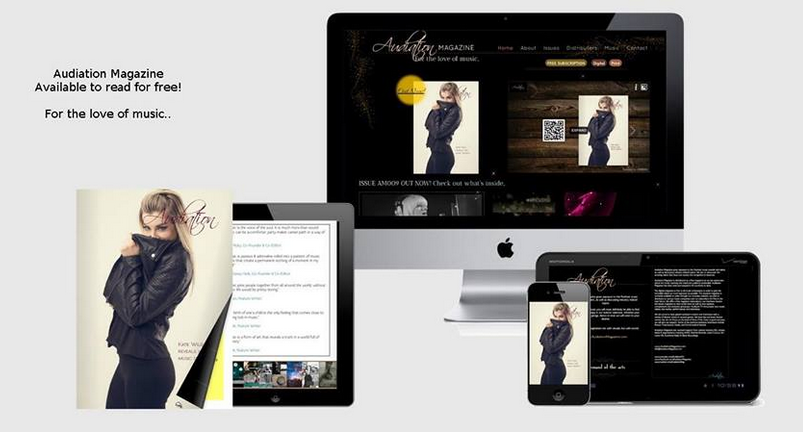 We caught up with the founder of Audiation Magazine to find out more.
Hi, I'm Ruby and I am company director & co-founder of Audiation Magazine! I do a little of everything music-wise, but mainly I am focusing on ruling the music magazine world!
Why and when did you start Audiation magazine? (What was your vision?)
I am excited to say that the idea and creation process began 13th March 2014, which means it will be our birthday very soon! It all kicked off one day when speaking with my partner in crime, The Sassy Yank, we both had strong connections and

music

blogs built up over the years – so I thought, maybe let's collate our work altogether, initially having the idea of an app in a magazine style and ideas flowed and it built up from there. Our vision was and always will be to help the incredible

music

talent get heard in the world. We love all our Independent 

music

 industry friends who work hard, and have such passion which inspires us to help them, and gratefully they help us too to grow. 
What is Audiation magazine about?
Audiation Magazine. For the love of

music

. A monthly magazine which is the voice for the industry, including

music

discussions, exclusive interviews, and features from the underground and international scene. Audiation Magazine showcases a variety of genres, whether your groove is Indie, Dance, House, Bass, Soul.. you are sure to find something you'll enjoy. We are a FREE magazine, this is because we would like the talent we feature to reach as much of the world as possible. The team: The Sassy Yank, Rokuro, Cessle & Sarah, each bring their individual styles and are passionate about

music

adding great perspectives to the magazine. 
Are there any incredible artists that you have featured in Audiation that you would recommend we check out?
There are so many to mention, Leanne Louise is a gorgeous eclectic vocalist always progressing, her debut EP released last year (Count My Blessings EP), Lauren Mason has a great strong sexy voice and her newest single you've probably heard on all the playlists right now (Ghosts produced by Higher Self), DJ S.K.T another rising star, he is taking over the club scene, most popular recently with his reworks (Push The Feeling / Right Before My Eyes), Karina Nistal another eclectic singer I recently discovered, her sounds being incredibly versatile (KaRAGEous EP).. Others include Lizzie Curious, Junior, Dmize, DJ Wad, Leah Lost, Superhand, Daniel Wanrooy and many many more!
How do we get Audiation magazine?
The digital version is uniquely available to read directly from our website. We also have several distributors: Issuu, Joomag, Magzter and more. And I am delighted to reveal we will soon be in major e-reader stores including iBooks, Kobo, Scribd, Barnes & Noble and more. The physical version is available if you click "print" on our site. Make sure you hit subscribe (its FREE) and when we grow we will be able to send you all copies to your door! 
Click here to email Ruby and submit your music for consideration in Audiation magazine and their various other promotional channels.  We're pleased to announce that links to our weekly new music show Lost On Radio will be included in future episodes of Audiation, just click the Lost On Radio banner to discover new music.