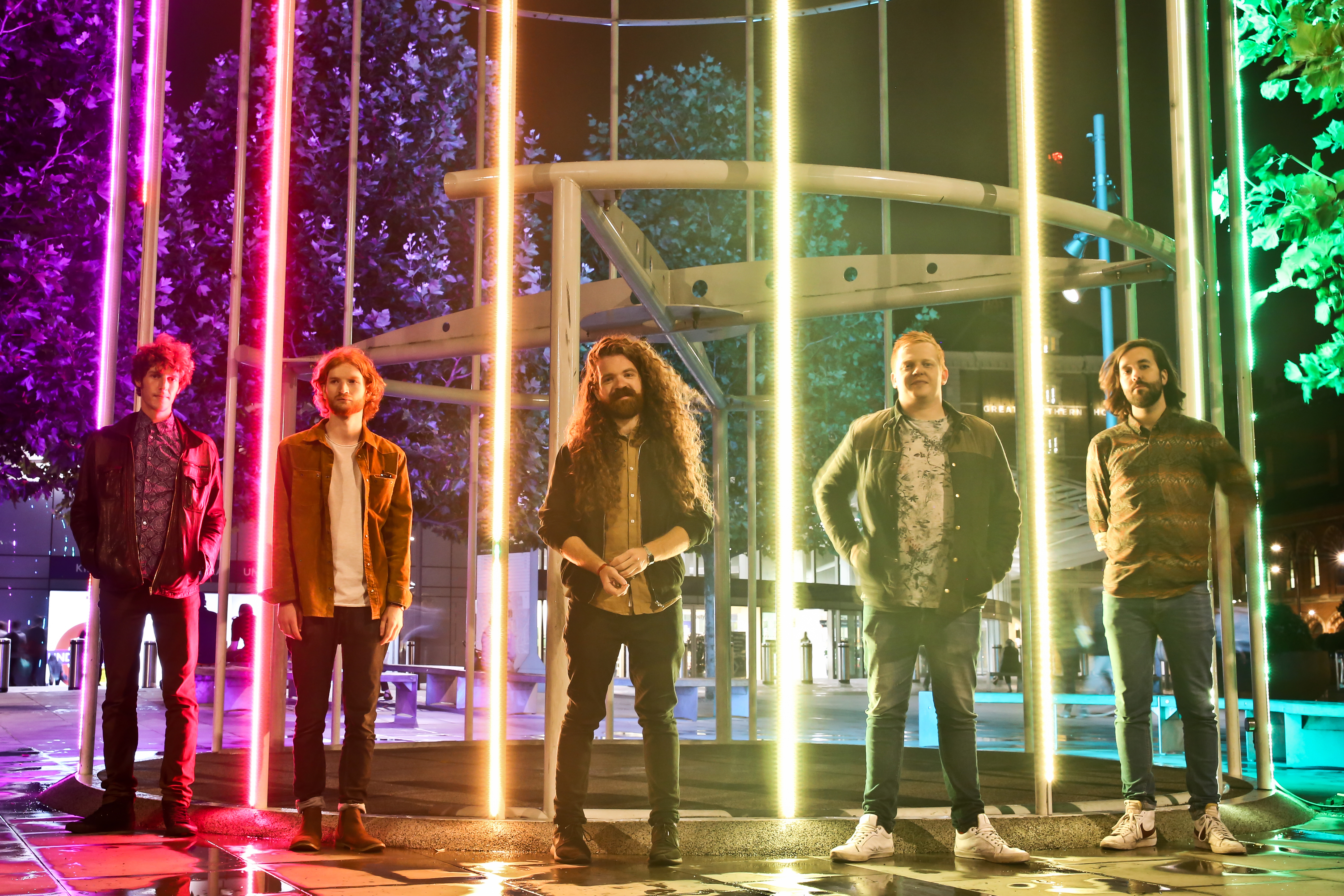 As any music fan knows, trying to describe a band or song in a few succinct words is often a hard task.  Anyone trying to do this on paper, as it were, and defining a sound for the benefit of the reader/listener, often finds it difficult to place an act into a relevant and meaningful music genre.  Are they fusion alt-country? New wave indie pop shoe-gaze?' Perhaps 'nu metal screamcore pop punk?
So it is quite helpful when an act offers up a genre of their own to describe their music, even more helpful when that act is as 'un-pigeonhole-able' (it's a word, honestly) as Bokito.  The London based, Irish quintet's most recent release, 'Aloof,' is another example of their unique blend of genres and sounds, which they aptly describe as 'Tropic Indie.'
At the start of the year the band were signed to Lost In The Manor Records (If you've been to the Finsbury Pub in London chances are you will have seen one of the shows they promote) quickly releasing their first single 'Better At Getting Worse.'  After that single gained radio play and critical acclaim, they kept gaining momentum, providing a blistering and memorable set to a packed room at Brighton's Great Escape Festival, as well as playing at LeeFest, and getting a nomination for The Glastonbury Emerging Talent Competition.  It is safe to say that new material from Bokito has been highly anticipated.
'Aloof' begins with a beautiful quiet intro, showcasing singer Moses Moorhouse's incredible vocal range, his falsetto and the fingerpicked electric guitar reminiscent of the late great Jeff Buckley.  In true Bokito style, however, the song abruptly changes.  The rest of the band kicks in, launching into a frantic, conga led tropical rhythm, like an up-tempo reggae party band, yet with a synth sound more at home in 80s glam rock.  What begins as Buckley-esque, soon becomes far more unique.
The frantic pace continues, the title of the song repeated frequently, whilst lyrically Moorhouse explores his thoughts on being an Irishman living abroad, feeling a desire to move back home, but tempered by a sense of not feeling welcome there anymore.  "It's not a specifically angry or political song" says Moses, "but rather just about feeling that Ireland will never really feel like home again."
The bridge provides a break from the pace of the song, revisiting the beauty of the intro, giving Moorhouse another chance to showcase his incredible vocal range, without ever overdoing it (a la X Factor contestants).  The song reaches an exciting and almost invigorating peak at the end, the whole band building to a crescendo that is topped by a basically nonsensical, but still somehow amazing, gabble of sound coming from singer Moorhouse.  Like the band themselves, this is a song that can't really be described, it just needs to be heard, again and again.
'Aloof' is out now on Lost In the Manor Records, the band are playing on October 28 at The Lexington in London.  You can listen via Spotify, Soundcloud, or buy it on iTunes.
Discover more about Bokito. Facebook Soundcloud Instagram Twitter
Words. Nicholas Cheek