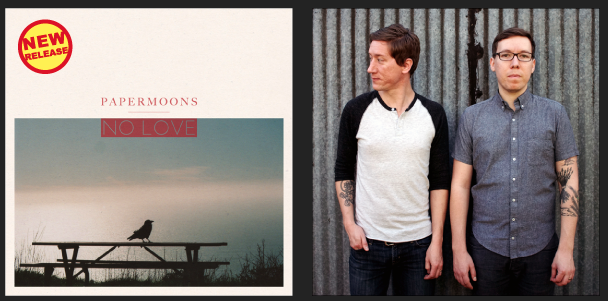 Four years have passed since Texan duo Papermoons released their debut album. After spending time apart, the bands' hotly anticipated follow-up, 'No Love,' has finally arrived.
The record reflects the distance the pair have travelled, on both a musical and personal level, since the release of their first L.P. 'No Love' explores their monumental life changes, from graduation to marriage, giving the songs a sense of honestly and maturity that was missing from their earlier works. Each song is crafted on personal recollections and holds relate-able moments for us all.
'Arms Length' opens the album with gorgeous acoustic guitars and soft vocal harmonies that glide through to the chorus. The track features delicate folk against indie-rock undercurrents to express the duality of love. Rock guitars and powerful drums add gusto and volume to an otherwise gentle track. 'Ghost' starts with sultry chords that have the ethereal nature of a harp. The track has sounds of Death Cab for Cutie, with mature song-writing, gorgeous harmonies and a stunning backing track.
At times the music overpowers the gorgeous vocals, giving this gentle, poignant ballad a slightly unexpected folk-rock edge. 'Lungs' closes the album with an aching beauty, full of sentimentality and stunning vocal moments.
When the backing-track is introduced, the song gains emotional presence, before taking another turn and slowing right down to an almost entirely acoustic level. The song is the longest on the album and holds so much variety within it. Many layers and genre influences make the song what it is; a touching and pretty track that won't be beaten in the way it will make you feel.
Acoustic folk, indie rock and soulful blues make up Papermoons' diverse and unexpected sound. Despite being a fairly young band, precision, care and maturity can be heard in every chord and every word of every song. 'No Love' is engaging on so many levels, making our four-year wait, so very worth it.
Download the complete album here.
Jen Grimble