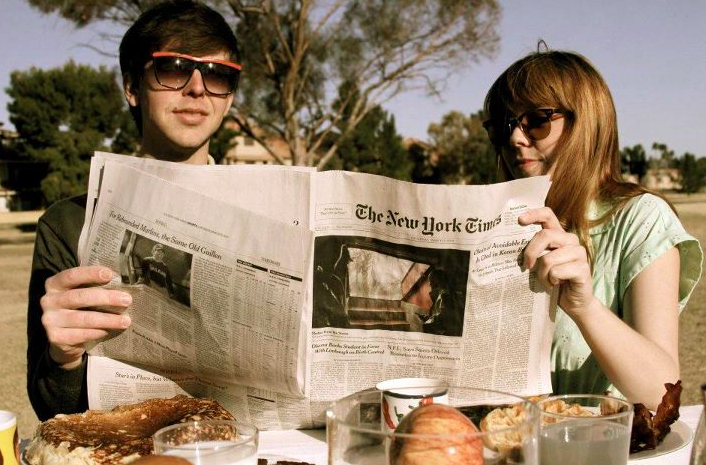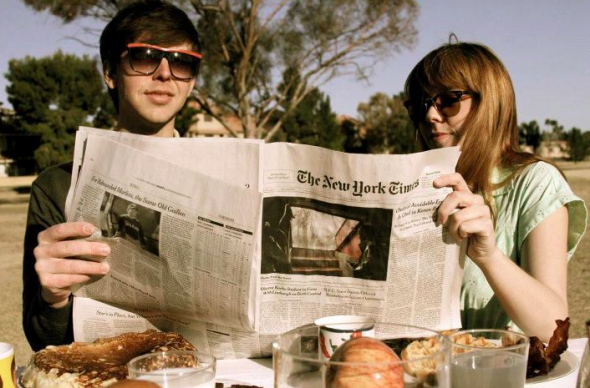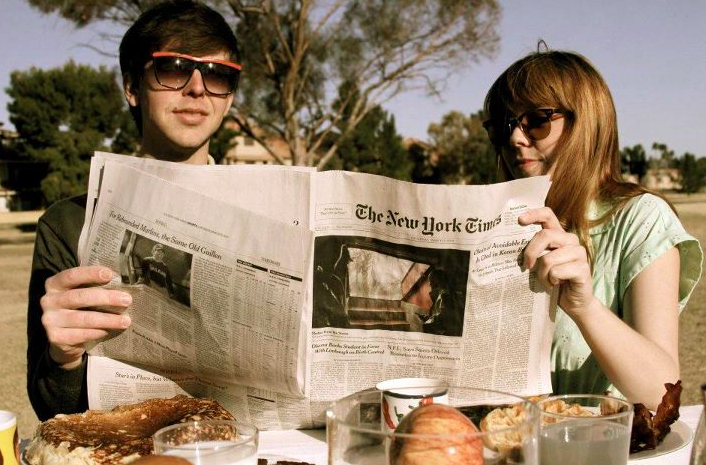 Phoenix, Arizona seems to be a hotbed of harmonious talent, producing trailblazers across the musical spectrum, from emo-rock group Jimmy Eat World to country singer Dierks Bentley. The latest group to emerge from this desert city is Bogan Via, a double act comprising of singer/ songwriters Bret William Bender and Madeleine Miller, whose new six track EP Wait Up is out now. Describing themselves as "indie pop folk" on their Facebook page is a little broad, so let's see if we can do a tad better.
Refreshingly, the duo share vocal duties on their tracks, with the balance between Miller's ethereal, Florence Welch style throaty purring and Bender's folky, upbeat baritone creating an unexpected harmony. Musically, the EP has quite a range, although the poppy, folk-electronica beat is reasonably consistent throughout. The tone of their music is upbeat and borderline jolly, but gentle and easy on the ear, almost like a soothing whisper at times.
[soundcloud url="http://api.soundcloud.com/tracks/28540341″ iframe="true" /]
TES especially will bring a smile to the face, with its tender but chirpy electronic beat. Unlike a lot of their contemporaries, Bogan Via manage the folk pop crossover simply, without complicating the music, which makes it incredibly easy and pleasant to listen to. Likewise, Afternoon Wonderland can only be described as a happy ditty, with a single acoustic melody which will have your foot tapping along on first listen.
[soundcloud url="http://api.soundcloud.com/tracks/62685959″ iframe="true" /]
Title track Wait Up is as close as Bogan Via get to being moody, with an atmospheric, ethereal cello soundtrack backing up the vocals which slice through the cloudiness of the music like a knife through butter, to delicious effect. Bender takes the lead here, and lifts his vocals an octave from his usual pitch, as does Miller, with the result that the higher tones gives the song a brighter feel than the sombre introduction would have you expect. You can hear 'Wait Up' on this week's Right Chord Music 'Lost On Radio' podcast, out on Wednesday.
Interestingly enough, Miller and Bender are a couple in real life and the gentle positivity of their romance shines through their music. Calling the EP "easy listening" isn't an insult – far from it – as this is music which makes the listener feel at home; upbeat, gentle, romantic and tender. Yes, its indie folk pop, but stripped back, and a welcome distraction from some of their overtly complicated musical contemporaries. Once again, Phoenix, Arizona has produced yet another band to watch.
Listen and download the full EP at Bogan Via's BandCamp page
Sadie Walton