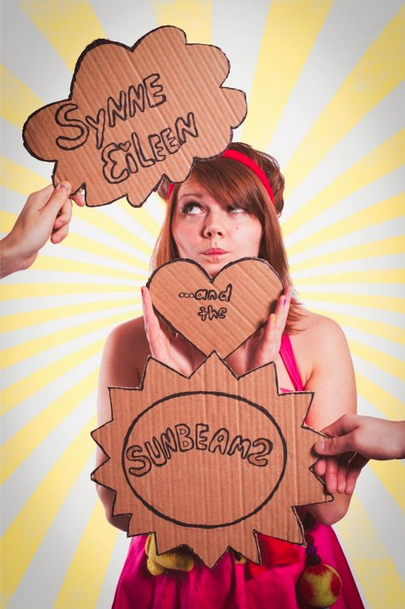 The words 'Synne Eileen and The Sunbeams' makes me smile. Their music sure does  too, and this unorthodox pop band are lovers of bubbly upbeat music and kitsch bow ties. Ultimately lovely, this 6 piece, 5 from Norway, 1 from England, are the future of fun loving quirk-pop.
Their new single, 'Cuckoo/Kinda Perfect' is a beautifully different and entertaining offering. Released in July it's the perfect antidote to dingy indie.
[wp_bandcamp_player type="album" id="2140112975″ size="grande" bg_color="#FFFFFF" link_color="#4285BB"]
'Cuckoo' is a quaint and delicate song, with a cute, floral track and pure vocals, that gives the song a glow of girlie-ness, that only pink candyfloss can match. The title is perhaps the best way to describe the song. It is very unique and a bit odd, but in the best possible way. The song makes you immediately fall in love, puts a smile on your face and warms up your heart, as well as being entirely and frustratingly catchy.
'Kinda Perfect' is entirely different from the first. While 'Cuckoo' is dainty, 'Kinda Perfect' has a more upbeat and danceable musicality. The song offers fast piano notes that almost sound off key, yet it works seamlessly. The band has a wonderful way of mixing folk with pop, giving their music an originality that should not be overlooked. There are few bands I could compare Synne Eileen and The Sunbeams to. There are slight sounds of Rilo Kiley and subtle hints of Of Monsters and Men. Either way, this band is one to keep an eye on. 'Cuckoo/Kinda Perfect' is a genuinely magical single, offering quaint notions and pretty melodies that would brighten the most miserable of days. Somehow you will find yourself pressing repeat as soon as it comes to an end.
Synne Eileen & The Sunbeams – Yo Dove, You Filthy Bird
To find out more about Synne Eileen & The Sunbeams visit their website here
Jen Grimble