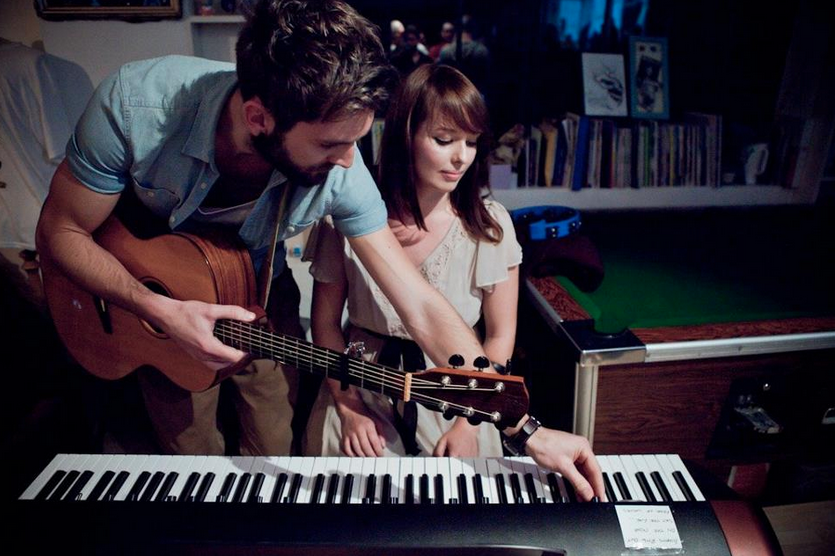 The Daydream Club are Adam Pickering and Paula Walker a UK based acoustic duo. They are currently approaching independent UK record stores and asking them to stock their debut single 'The Record Shop' to make it their official song of Record Store Day, 2011.
Introducing The Daydream Club
One of the joys of working in music are the moments when you stumble across an artist that stops you in your tracks. It doesn't happen very often, but when it does it's hugely gratifying and very exciting. Discovering The Daydream Club was one of those moments.
Record Store Day
Record Store Day was conceived by Chris Brown in 2007 as a celebration of the unique culture surrounding independently owned record stores. It's the one-day that independently owned record stores come together with artists to celebrate the love of music.
The Daydream Club – The Record Shop
The ambitious duo only started playing together in February last year, and by November had set up their own record label 'Poco Poco Records' and released their debut album 'Overgrown.' The album and specifically one track, 'The Record Shop' struck a chord with listeners and it was picked up by a number of BBC radio stations & DJs including Tom Robinson [BBC 6 Music], as part of the new music discovery initiative, 'BBC Introducing.' "Wow… Really astonishing musicianship" [Tom Robinson – BBC 6 Music].
'The Record Shop' was written as a tribute to the golden years of vinyl and independent record stores. It reflects on the current state of the industry, noting the demise in value of the physical product in favour of digital technologies. This is highlighted in the song through the story of a fragile old man and his shop, with all of its wonderful quirks that his loyal customers have grown to love. "We didn't know about Record Store Day when we wrote the track" explains Adam, "but the lyrics really seem to resonate with people, who like us, enjoy trawling through record shops and discovering musical gems."
The plan has already attracted considerable interest with backing from influential BBC DJs and key music industry figures including Dean Jackson (The Beat, BBC Nottingham), and Bob Fischer (BBC Tees). The artwork for the single will feature photos of the participating Independent Record Stores.
As self-funded independent artists, The Daydream Club do not have the luxury of major label promotional backing, so instead they are relying on their creativity and support of their fans to help grow the campaign. "We've set up a Facebook Group and we're asking our fans and anyone who works in or around the music industry, who enjoys the track to help spread the word. We're excited to see how far we can take our idea," says Paula.
You can check out the track and show your support for Adam & Paula's plan by visiting them here:
Discover more from The Daydream Club