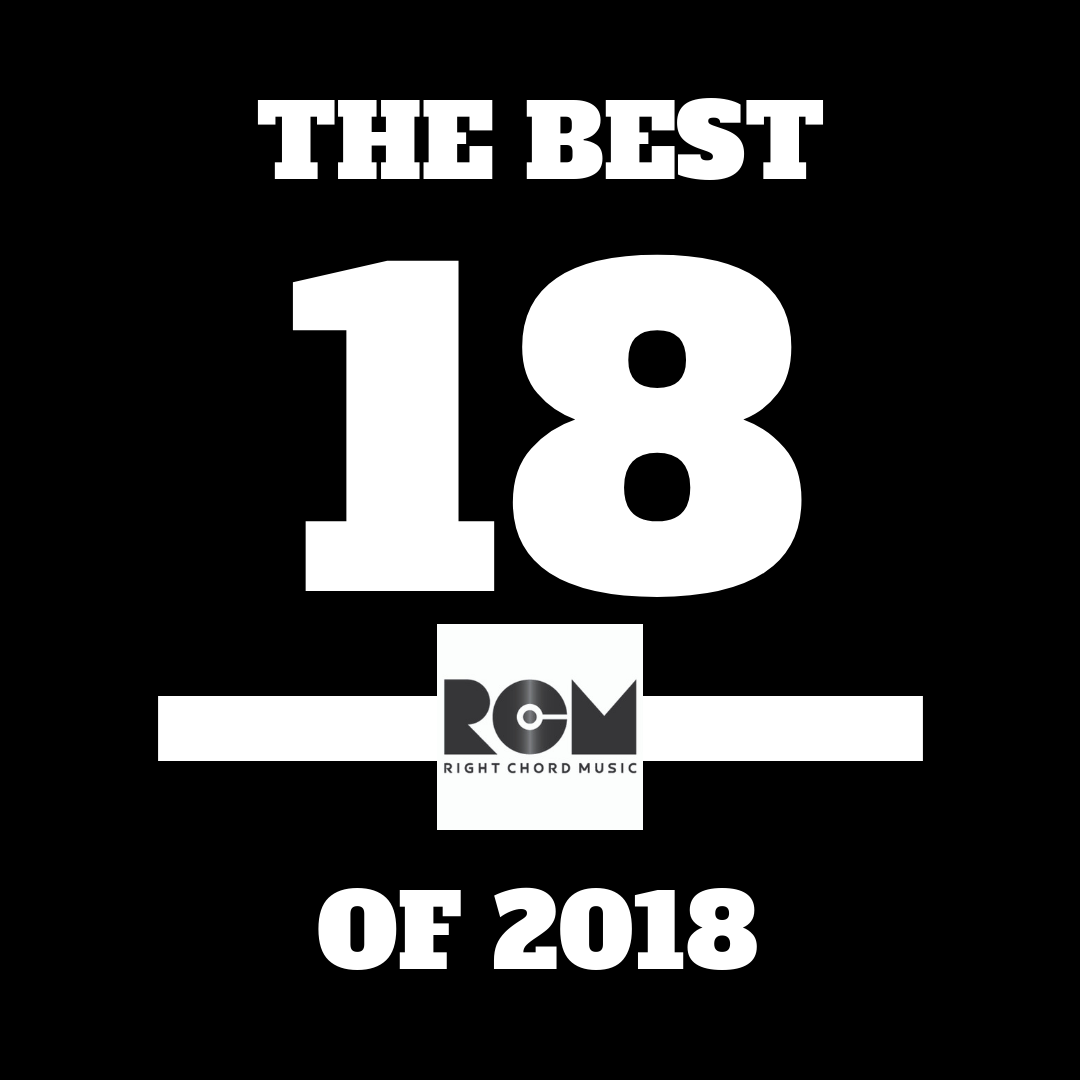 Check out the best of 2018. The RCM editorial team have selected 18 of their favourite, most loved tracks from the year and built a playlist (in no particular order). We encourage you to listen, follow, share and discover.
Residing in his ancestral home in the North Atlantic, The Sea Atlas skippers boats up and down the West coast of Scotland, working the land on his croft, all the while writing and recording his own brand of hauntingly beautiful tracks, locked away in a cabin on the shores of a sealoch. We said: Wind swept grunge with bags of heart and honesty. Discover more
They have the look, the sound, and the live show. Without doubt the most success ready band to emerge in 2018.  We said: This New Jersey four-piece ooze energy and excitement, while sassy front woman Jessica Kenny evokes the spirit of 'Don't Speak' era Gwen Stefani on hiatus with The Strokes
Read and discover more.
Singing and dancing visual artist Kitty Finer released an EP A Side' containing the first four tracks from her album 'A Side/B Side' which will be released on vinyl in early 2019. NYC is track three. We said: NYC is your invitation to stay in and have the ultimate fuck you, living room dance party. Read and discover more.
SEIL LIEN (pronounced Seal lee in) is the Chinese name of Scottish songwriter Marie Claire Lee. I Am Fire is explosive from the beginning, brimming with the influence of late 90s guitar bands, it is part grunge, part indie, and all-powerful. We said: 'I Am Fire' sounds like a lost Butch Vig song. Read and discover more.
"Recovery is a song about alcohol, and all the wonderful and terrible things it can do. It's quite a fun drink but also a dark mess. Cheeky pints can't be cheeky forever. How many of our relationships would exist without it?" Greg Sanderson, Cocoa Futures. We said: Recovery is a glorious EP that gets under you skin and invades your ears in the most pleasantly imaginable way. Discover more
'Wait For You' appears on the band's 2018 Snake Eyes EP. BWR are rightly becoming known as one of the best new live bands in Britain. We said: Gloriously anthemic, it's only a matter of time before this track is being played in arenas and stadiums. When Danny Core sings "If I change, would you really want to know?" Wait For You – soars! Read and discover more.
Pylon Moon is the first sighting of new music from the former RCM artist of the year Officer. After a recent sell-out show at The Camden Assembly excitement levels are building nicely. We said: We keep finding ourselves singing along and have no idea what we're singing, but who cares it's glorious. Read and discover more.
After 2 minutes 45 seconds Wolf delivers the lyric "Now I leave my past behind" and it's hard not to feel a collective sense of cathartic release. With this track Anna Wolf has done what she set out to achieve. We said: Debut releases, rarely sound this exciting. Read and discover more. 
This London four-piece describe their sound as 'dark country' and cite Nick Cave as an influence. This track sounds like it should have been lifted directly from a Neil Young album. We said: This smooth groove, will get you shuffling towards your special whiskey cupboard. Read and discover more
We doubt there has been a more powerful song produced this year. Bare does what it says on the tin. An honest and frank, personal account of domestic violence and the defiant spirit it evoked. We said: Bare is both heartbreaking and comforting in equal measure.  Read and discover more
When we first heard The Teskey Brothers we thought we had stumbled across a 70s soul classic. Then we realised the album 'Half Mile Harvest' was released in 2018 by a white Australian four-piece. We spent the next week listening on repeat and wishing we could be this cool. We said: Quick, go buy your tickets for their London show at Union Chapel! Discover more
Her appearance on the RCM Takeover Sessions broke all previous records with more views, shares and comments than ever before. With her first headline full band show planned for February, 2019 promises to be a big year. We said: Natalie Shay writes perfect pop songs and Perfume is the sweetest of them all. Discover more.
Bridesmen – Someone That Loves Me
'Someone Who Loves Me' highlights Chen's warm silky vocals, enchanting modern R&B melodies and hypnotic instrumentation. Thematically the single addresses the loneliness we all feel throughout our lives and assures others that we are not alone. We said: An astonishingly good track, one of our favourite discoveries of 2018. Discover more.
'In Your Arms' is a stunningly raw love song narrating the emotions of expressing your love for someone. Brooks confides, "Heart on sleeve, I wanted to tell the woman I love just how much I love her. This song is an expression of what she means to me and how much has transformed for me since I met her. We said: This will melt your heart, it reaches near-spiritual levels of beauty. Discover more.
Andrews' – Lost In The Fire
Singer-songwriter Michael Cronin performs under his moniker andrews'. We discovered this track on Squall (our new influencer marketing platform) and immediately knew we had found something special. We said: Bon Iver comparisons are all too frequently bandied about, but on this occasion they might just be justified. Discover more.
Jazz/Soul Artist, Poet and Entertainer Chelsea Blues, hails from The Bahamas and now lives in London, UK. Her neo-soul vibes, jazzy voice and dynamic stage presence are winning her admirers wherever she goes. Chelsea Blues was a standout highlight at our Blogtober showcase and recently released her debut EP Textures. We said: The first time we heard her freestyle it left us speechless. Chelsea Blues is a star. Read and discover more
The band wanted to bring the spirit of working with others into their songwriting. Starting with only the title of the song, fans were asked to share stories, art, poetry or anything that resonated with them with the phrase 'Meet Me In The Chaos'. The band had a 3 day writing retreat booked the following week with the challenge to both write and record a demo of the song with pages of raw stories of suffering, struggle and hope. We said:
When Speak, Brother invite you to meet them in the chaos, you just know everything is going to be ok. Read and discover more
Music is at its most powerful when it's personal. Let's face it, we all have songs that immediately connect us to memories, both good and bad. With that thought ringing in their ears The Daydream Club invited their fans into the creative process asking them to submit memories at special Facebook Live shows which were turned into spontaneous live improvisations. The gigs took place shortly after the terror attacks in London, which personally were a little too close for comfort! With this in mind we asked the band to create something for anyone affected by terrorism, anywhere in the world, and this was the result. We said: It's a stunningly beautiful piece of work, that elegantly conveys sorrow and defiance in equal measure. It's an incredibly emotive tribute. Read and discover more