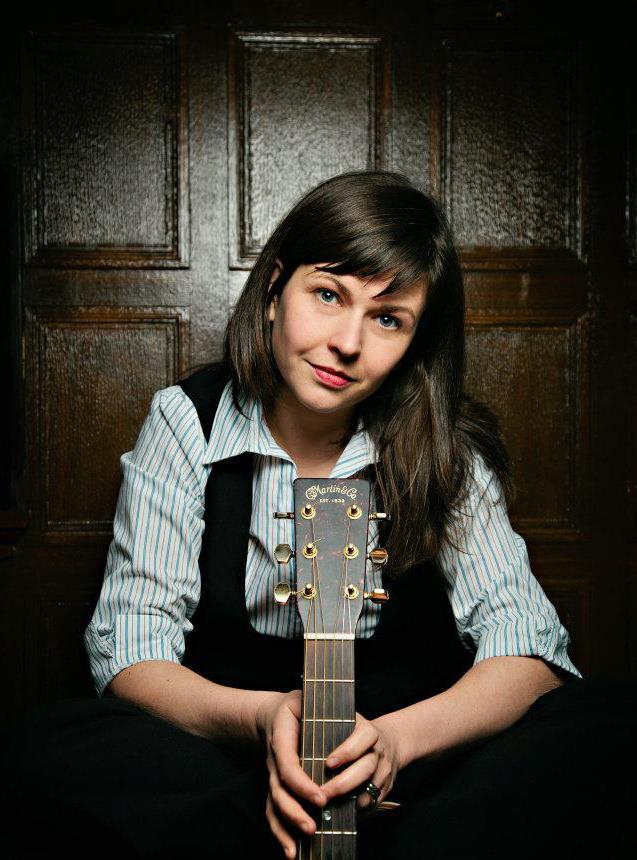 We caught up with Polly Paulusma to find out more about her music, and her new acoustic, folk label Wild Sound Recordings.
First up, what is Wild Sound?
The back-story to the name is that 'wild sound' or 'wild track' is the special sound an engineer captures on a film shoot in the background, the noise of air in a room or a field or any location. There's a moment when everyone has to be completely silent and s/he just captures the sound of that space, for use in mixes later. I feel as if our kind of acoustic music is the sound of life, the sound of being for us, just like wild sound is. It's not such an obvious meaning, but I hope it makes sense with explanation!
You've had an interesting career as an artist, what are some of your personal highlights?
Supporting Bob Dylan for two shows in Ireland was a big one. Playing Glastonbury in a packed Avalon tent in a pair of wellies was another. All the shows supporting Jamie Cullum were extraordinary. And once I played to 15000 people in Regents Park. But… some of the most memorable shows are the smaller ones, ones where you've got people crying or really connecting with the music, and you know that you're getting something right, your purpose is being served. Those are some crazy gigs I remember too. Oh, and there was a time I played in a tiny train station venue in Italy, that was fun! God, lots of things.
[soundcloud url="http://api.soundcloud.com/tracks/83386588″ params="" width=" 100%" height="166″ iframe="true" /]
What are the most valuable things you have learned along the way?
That making music is really all that matters when you're doing it, and that the bloat and fluff around it comes and goes but it doesn't mean the music has to. I've had to learn to temper my ambition now I have a family, and put them first. Not easy. I've learned to adapt. But my obsessive nature can run away with me if I'm not careful.
How has the music industry changed since you began?
Beyond recognition. The digital revolution has changed everything. When I was first signed, the old ways were just on the turn; the kind of deal I signed I don't think would ever happen now. Having said that, I self-recorded my first album which was a bold thing in those days. I was able to use the digital tools suddenly available. I was able to grow an email list right from the offset. I was able to use a lot of the tools which opened the doors for people to get on and do it themselves. Since then, I think there's so much more music now, it's that much harder to get seen or heard. But I just plough my furrow. I am a big believer in the idea that good stuff will out, and as far as I'm concerned, it's only a matter of time. I'm not patient, but I'm a persistent fucker and this is my life.
What are the biggest challenges facing a new artist launching themselves in 2013 and do they differ from when you started?
I don't think getting signed is the be-all-and-end-all it was when I was starting out. But I do believe that we are stronger together.
Why set up a record label now?
I am ready. I have wanted to for 10 years. I was all geared up to do it for my first record but One Little Indian came along and pipped me to the post. But now, I'm old enough, hairy enough, to turn my expertise and contacts and grit to help other artists I believe in. I also genuinely believe we are all better off collaborating; we are stronger together, and the doors I want to push open I think I've got more chance of doing with a stable of great artists alongside me.
[soundcloud url="http://api.soundcloud.com/tracks/5652126″ params="" width=" 100%" height="166″ iframe="true" /]
What's your vision for your label Wild Sound?
I want to grow a nurturing stable of acoustic artists who all make great music, and help them to find new audiences, spread the word, garner press attention, syncs for TV and film usage, and word-of-mouth appreciation, creating a brand so that people know that a Wild Sound artist is going to be amazing before they even hear the music. I want Wild Sound to champion the artists so that we can all make a living and keep making music.
Tell us about some of the artists on your label?
Harry Harris was 17 when I first met him. We met on Myspace. He came to my shed and we recorded his first album there, when my daughter was 3 months old. Harry was very patient with me and we recorded a beautiful album in that time. This is the debut release on Wild Sound. Since then, he's recorded another album and we are going to release that later in the year. He is a renaissance man, with a deep love for music and film. He's starred in an indie movie this year and he writes as a film critic for a number of online magazines, as well as playing his guitar. His debut, self-titled album is set for release on July 1st. Pre-order your copy here.
[soundcloud url="http://api.soundcloud.com/tracks/83412837″ params="" width=" 100%" height="166″ iframe="true" /]
I first met Stylusboy in 2011 and we played a gig together; I was really knocked over by the songwriting and we stayed in touch. When I began to grow the label they seemed like an obvious choice of band to take on – their songs are so strong and they were at just the right point in their trajectory where they were preparing an album. When they asked me to produce it for them, I offered to release it too – and we've been working together towards that goal ever since.
[soundcloud url="http://api.soundcloud.com/tracks/88468938″ params="" width=" 100%" height="166″ iframe="true" /]
It feels like a great time for Folk music what has been the catalyst for this success?
It's always been a great time for folk music. It bubbles away under all the crap incessantly, reminding everyone of truth and beauty, harmony and the earth beneath our feet. When Simon Cowell is dead and gone, kids will still be picking up guitar and working out how they feel about being alive through music, thank fuck.
You recently released your third album, for anyone who hasn't heard it what should they expect?
It's very joyful, a bit more country than I expected, very soulful, a bit jazz-orientated in places. John Parker from Nizlopi played the most beautiful double bass. It's got a real spring in its step. It's mostly happy music; even the sadder more reflective songs have a positive tilt about them. It's life-affirming stuff.
[soundcloud url="http://api.soundcloud.com/tracks/83385171″ params="" width=" 100%" height="166″ iframe="true" /]
We hear you live in officially the narrowest house in London, what's that like?
Ahhhh — well I did live in the thinnest house in London for 12 years, but we moved up to Cambridge in 2010 and we now live there. Home of the Cambridge Folk Festival – who could want more…It's me returning to where I was born. I am also doing a little bit of teaching English Lit to the university students when I get time – they're getting some Nick Cave next week – that should wake them up! I love my life here – for my children it's a beautiful city to be growing up in – and the extra house width means I can now swing a guitar. But the first thing we did when we moved up was to build a shed. So my music studio is still at the end of the garden, and most of Leaves… was recorded down there.