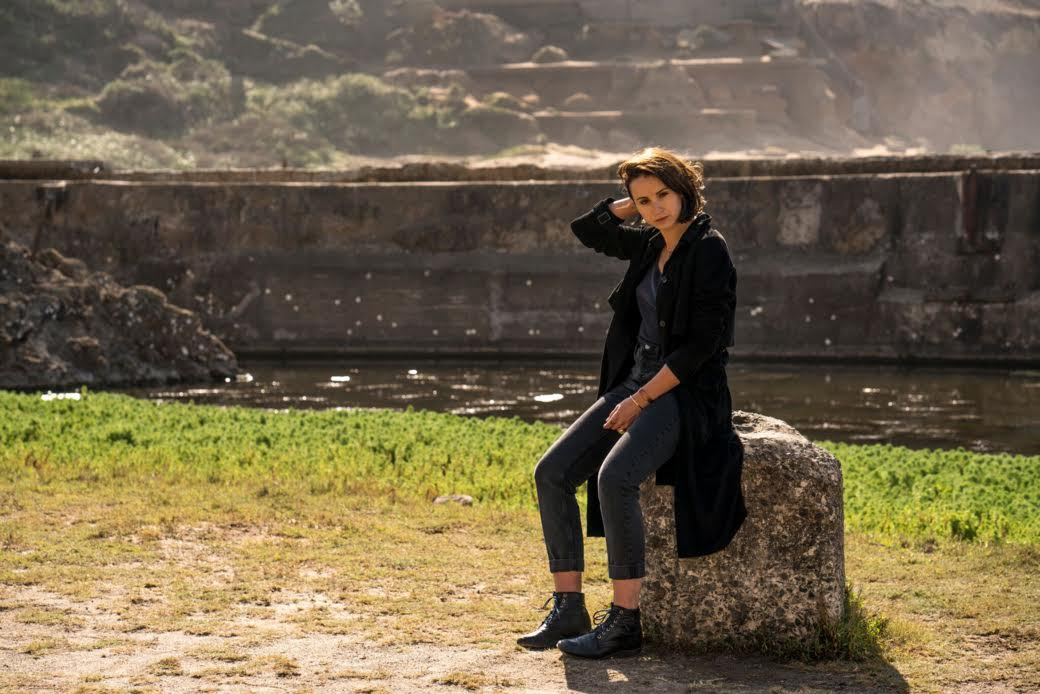 Holly Miranda is an American singer-songwriter, she grew up between Detroit and Nashville, two music towns that would influence her own journey in a very profound way. She began playing piano at the age of six, taught her self-guitar at 14 and moved to New York at 16 to start her professional career. In 2003 Holly teamed up with Alex Lipsen, producer and keys player. The project evolved to become
The Jealous Girlfriends
, a four piece band based in Brooklyn.
Fast Forward to 2018 and Holly has a new single 'Exquisite' featuring and directed by Kyp Malone of TV On The Radio fame. The track will be featured on Holly's new LP 'Mutual Horse' out 2/23 on Dangerbird records. You can pre-order the LP here. Holly Miranda and Kyp Malone combine with both sonic force and delicious subtlety, as she sings 'Please Forgive My Foolish Heart' you just know you would. We await the LP with interest.
When talking about the video Holly says, "Have you met my friend Kyp Malone? Not only does Kyp give the best hugs on the universe, but he has the most beautiful voice, the most insightful and honest lyrics and now to add to that list he has made my absolute favorite music video. These images and animation directly communicate visually where we were emotionally writing this song together. Confronting ourselves. owning our actions. Asking for forgiveness. I hope you enjoy it." Kyp Malone added, "I was happy to make this video and excited to see what images the sounds conjured."
"I've always been a proponent of not making the same record twice," Holly Miranda says. "Some people find a niche and go with that, but I need to try something different every time." That's more than apparent on Mutual Horse, Miranda's third release for Dangerbird Records, out February 23rd. The album, Miranda's fourth full-length solo release, is more than just an artistic step forward, it's a whole new way for her to make music. "This really is the most collaborative record I've ever done," she says. "It's first time I've shared so much of the writing and the production, the meat and bones of making an album."
With support from a stellar circle of players – including My Brightest Diamond's Shara Nova, TV On The Radio's Kyp Malone, Grandaddy/Modest Mouse's Jim Fairchild and Built To Spill's Matthew Morgan amongst others – it's Miranda's astonishing singing vocal that is set free, elevating this collection of songs as no one else could. An instrument which can shift from a barely-there whisper to a soaring wail that cracks open the sky, Holly's voice is startling from the moment it emerges on 'Mutual Horse'.
This record finds Holly bridging the gap between 2010's experimental synth laden release ">The Magician's Private Library and 2015's stripped-back, soulful ">self-titled record. Miranda takes an honest and intimate approach, while maintaining her sense of humor amidst sonic explorations. The tracks run the gamut from the sultry, driving "On the Radio," to a cover of Crazy Horse's "When Your Lonely Heart Breaks," and the delicate "Sing Like," inspired by Miranda's mother; an intimate clip of her singing while pregnant with Holly follows the song.
The album was recorded in Los Angeles, where Miranda laid down the beginnings of 23 songs before returning to her home base of New York City to finish the songs that would end up on the album. The Dangerbird studio also inspired the album's title. "Mutual Horse comes from this image we hung in the studio. It was a photo of the singer-songwriter Cris Williamson—we did a cover of her song 'Midnight Oil'—and I had become a big fan," Miranda explains. "We printed out photos of her from the 1970s and taped them up around the studio; that was our vibe." One of those photos was of Williamson and another woman holding the reins of a horse; the two women are staring at each other, but the horse is staring at the camera. That picture was on the wall of Miranda's studio, and eventually someone scrawled the phrase "Mutual Horse" beneath it.
"It doesn't feel like just mine," Miranda says of the album, which took its name from the graffiti. "It feels like it belongs to everybody who worked on it. I opened myself to collaborating this time around, which made me really vulnerable."  Her collaborators on Mutual Horse include Shara Nova (My Brightest Diamond), Josh Werner (Dr. John, Lee Scratch Perry), Jared Samuel (Yoko Ono), Jim Kirby Fairchild (Grandaddy, Modest Mouse), Kyp Malone (TV On the Radio), Maria Eisen (Underground System), and Matthew Morgan (Built to Spill, Modest Mouse) among others.
DIGITAL TRACKLISTING:
1 Wherever You Are
2 Golden Spiral
3 To Be Loved
4 On The Radio
5 All Of The Way
6 Towers
7 Exquisite [featuring Kyp Malone]
8 Mr. Fong's [featuring Shara Nova]
9 Do You Recall?
10 Let Her Go *
11 When Your Lonely Heart Breaks
12 Sing Like My Life
13 Gina
14 Mt. Hood *
*Digital Only
Photo credit: Jacqueline Di Milia