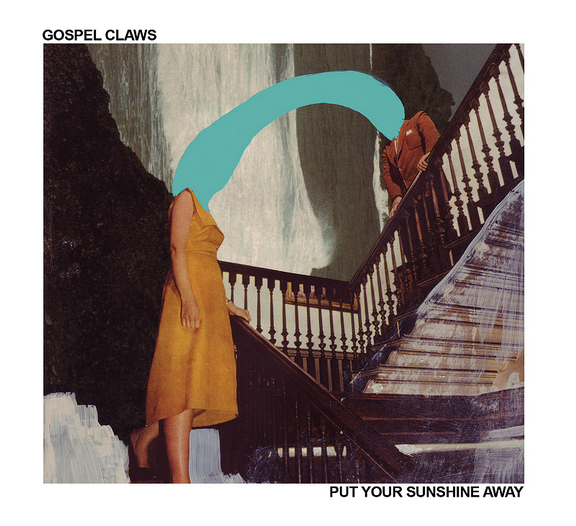 Gospel Claws are an indie rock band from Tempe, Arizona. We stumbled across them via previous Band Of The Week 'Bogan Via' another resident of Tempe, Arizona. It's clearly a hotbed of musical talent.
The band began in 2007 when lead-singer/ guitarist Joel Marquard left the indie-pop band Dear and the Headlights to return to his day job as a delivery driver. But Marquard didn't stop writing songs and amassed quite a catalog of new material. Marquard began collaborating with his friend, Sloan Walters, and the two recruited John Mulhern, Wesley Hilsabeck, and Scott Hall to fill out the band.
Gospel Claws 'I Want It All' An impassioned stomper of a track.
Gospel Claws released its first studio recording in 2009, a self-titled EP on friend Chuckie Duff's Common Wall Media label. Duff had been band mates with Marquard in Dear and the Headlights and helped record and produce the debut EP. They received a bit of buzz on these first five songs, but their full-length C-L-A-W-S, released in 2010, really solidified Gospel Claws' sound and songwriting. Producer Bob Hoag (Joel Plaskett, Black Carl, The Format) had the band track live to 2" analog tape with minimal overdubs at his Flying Blanket Recording facility in Mesa, AZ. The resulting songs captured more of the band's developing strength as a live act and were more akin to what one can expect at their live shows. As darlings of the local Phoenix music scene, Gospel Claws have honed their skills opening for the likes of Wild Nothing, Portugal. The Man, Tennis, Real Estate, and No Age.
The album attracted some national attention and charted well at college and specialty radio. Paste Magazine named Gospel Claws the top Arizona-band "you should listen to now." A review from Death + Taxes called C-L-A-W-S "one of the year's most unforgettable albums." The record spent 5 weeks in the top 100 on CMJ200 and 4 weeks on the FMQB Submodern charts with the album peaking at #2 and the single "Walk me Down" getting as high as #6. The band was also featured on NPR's "All Songs Considered" program, and in March 2011, they played an official showcase and a handful of parties at SXSW.
Off and on throughout 2012, the group returned to Flying Blanket with Hoag to record songs for their second LP Put Your Sunshine Away. With songs influenced by ʻ50s doo-wop and further exploration of vintage sonics and recording techniques, the band and Hoag created a sound that is distinctly Gospel Claws.
Early in the year, Marquard was diagnosed with testicular cancer. The Phoenix, AZ music community rallied on his behalf with a benefit show and the Balls Benefit Compilation. The opening track of Put Your Sunshine Away "Pale Horse Dry Cleaning" was the first new track that Gospel Claws released in 2012 and is available on the comp. Luckily, Marquard survived and is now cancer-free, but the running joke is that if their sophomore record sounds a little less "ballsy", there's a valid, medical explanation. Also during the year, Mark Erickson (Colorstore/ROAR) replaced Hilsabeck who had relocated to Portland (insert Portlandia joke here). Tragically, Erickson died before getting to contribute to the recording process.
This October with Colorstore's Jef Wright on drums and Hall moving to 2nd guitar, Gospel Claws return to the stage to celebrate the release of their song "I Want It All" on 7″ split with local cohorts ROAR on the newly formed President Gator Records. Put Your Sunshine Away was released on November 20th via Common Wall Media.